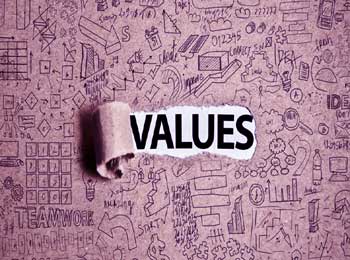 Young man arrived at office, for his first interview.  Young man used to live with his parents. He was frustrated with his parents nagging for every little thing he did at home.
While waiting for interview, he was thinking, "Only if i succeed in today's interview then i will say goodbye to my parents house and will settle down in city. Then i will not have to listen to my parents nagging all the time."
He started thinking about little things his parents used to nag him about –
How his mother ask him to make his bed after he wake up.
If he leaves bathroom door open, his mother would ask him to close door and before that check if tap was turned off properly.
How his father asked him to switch off fan or light switch before he leaves.
His mother always nagging him about keeping things at right place.
While thinking all this, he thought, "Why should i listen to all this, why should i do all this? If i get a job, i will definitely leave their home."
When looked around, young man saw that there were many candidates sitting in that office.
Young man saw that the veranda light in office was still on and it was ten o'clock in morning. Remembering his father words, he got up and switched off the light.
Then he saw that water was dripping from water cooler kept at office. He then went to turn off tap properly.
It was written on board that interview would be held on second floor.
So, while going upstairs, young man saw that their was a chair in way, he removed it from way and kept aside and went to second floor.
Now, waiting outside, young man saw that candidates already present were going in and immediately coming out.
When young man inquired about it, he got to know that, interviewer doesn't ask anything. After taking file from candidate, he just ask them to go back.
Young man number came. He went inside and passed his file to interviewer. After looking at his file, interviewer said, "When are you joining?"
Young man was surprised.
Looking at his face, interviewer said, "Today, in interviews, no one was asked anything. We noticed everyone's behavior on CCTV. Everyone came but no one switched off the tap or light. You have good values and habits.
A person who doesn't have self discipline, no matter how smart and clever he is, can not succeed in management and life."
After interview was over. Young man reached home and hugged his mom and dad.
He apologized to them and thanked them and said, "In my life, my degree had no value in comparison to the lessons i learned from you because of your nagging on small matters.
Today, I came to know that not only education but good habits and values have their own importance if i want to succeed in life."
Learning:
To Live in world, Values are Necessary. Respect for Parents is Necessary for Values.
---
You May Also Like: Three Toys and Their Value – King and Toy Seller Story
---
Search Keywords: Young Man Interview – Importance of Values and Good Habits, Story about Respecting Your Parents, Story Teaching Kids Importance of Learning Good Habits, Story for Parent and Children's Relationship, Parents Nagging is for Children own Good Short Story, Story to Share with Family and Friends, Creating Good Habits and Values from Childhood, Learning Small Things at Home from Parents Story to Teach Kids to Respect Their Parents