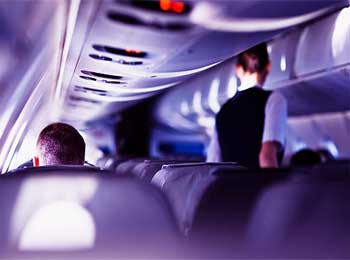 A very beautiful woman entered the plane and looked around in search of her seat. She found her seat was next to a person who had no hands.
Woman hesitated to sit near that handicapped person.
She called air-hostess and said, "I will not be able to travel comfortably in this seat."
When air-hostess asked reason, woman replied, "Because person sitting on adjacent seat doesn't have hands and i don't like such people. Will not be able to travel sitting next to such a person."
Saying this, beautiful woman requested air-hostess to change her set.
Air-hostess was in dismay to hear this from a woman who appeared to be well-educated and polite. Air-hostess looked around for vacant seats but didn't find any.
She told that woman, "Mam, there is no vacant seat in this economy class but it is our responsibility to take care of convenience of our passengers. I will go talk to the captain. Please be patient till then.."
Saying this air-hostess left.
After sometime, she came back to woman and said, "Ma'am! I am very sorry for the inconvenience caused to you. In this entire plane, only one seat is vacant and that is in first class.
I spoke to our team and we made an extraordinary decision. For the first time in the history of our company, a person from economy class will be allowed to travel in first class."
Beautiful woman was overjoyed but before she could express her reaction and say something..
Air-hostess moved towards the handicapped man and politely asked him, "Sir, will you be able to go first class..? Because we don't want you to be bothered by traveling with a rude passenger."
Hearing this, other passengers welcomed this decision by clapping. Now, that woman could no longer raise her eyes in shame.
Then handicapped man stood up and said, "I am an ex-serviceman and lost my both hands in a bomb blast during an army operation.
At first, when i heard the discussion of this woman, I was disheartened and thought – For safety of such people i risked my life, lost my hands..!!
But seeing you all, i feel proud of myself that i have lost my hands for safety of my country and countrymen."
Having said that, he moved to first class and that beautiful woman sat down on her seat with head bowed in utter humiliation.
---
You May Also Like: Monk's Advice to Fool!! Story about Condemning Others
---
Search Keywords: Woman Complain and Air-hostess Response, Heart Warming Story, Be Respectful to Others Despite Difference Short Story to Share