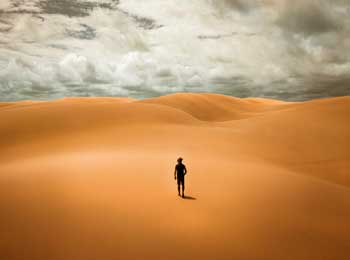 When Alexander returned to India, he went to meet a Saint, seeing Alexander coming to him, Saint started laughing.
Alexander felt insulted.
He said to Saint angrily, "Either you don't know me or your death had come.. Don't you know who i am? I am great Alexander.."
Saint started laughing even louder.
He said to Alexander, "I don't see any greatness in you. I see just a poor person."
Alexander shouted, "Have you gone mad? I have conquered the whole world."
Saint replied, "There is nothing like that. You are still an ordinary human being. Let me ask you…
Suppose you are stuck in a desert, far and wide there is no water source around you and there is no greener where you can search for water. You are at verge of dying because of thirst and then you see the only man who has some water. If you ask that person for water, he refuses to give you any water, then what can you give to that person for a glass of water."
Alexander thought for sometime and replied, "I will offer him half of my kingdom in exchange for that glass of water."
Saint then questioned, "What if that person does not agree for half of your kingdom then what will you do?"
Alexander said, "Then in such condition, i will give him my whole kingdom for that glass of water."
Listening to this, Saint started laughing and said, "Just think now, total value of your kingdom is just a glass of water and you are getting full of yourself with such pride.
If time comes, your kingdom will not be enough even for a glass of water. Then you can shout all you want in desert, no one will listen.
Then you will know, All greatness that you think, is just an illusion of yours."
---
You May Also Like: Alexander the Great – Last Wishes
---
Search Keywords: Value of Glass of Water – Alexander and Saint Story, Story about False Pride, Alexander the Great and Indian Saint Conversation, Deep Meaning Interesting Story with Important Learning for Life, Stories for Those who are Full of Themselves, Story for Those who Look Down on Others, Best Story to Share, Must Read Stories with Life Lesson,