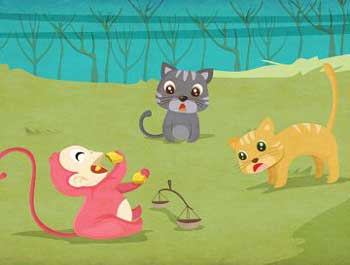 Two cats were prowling together. One of the cats saw a big cake and missed. The other jumped up and picked it. Both started quarreling over that large piece of cake.
First cat said that she saw it first so it's her but other cat refused about her claim and scratched her. Both started fighting.
Just then a monkey was passing by. He saw them quarreling and asked what happened. Cats told him about matter. He advised them not to fight and said that he would help them settle quarrel justly. Cats agreed.
Just then monkey broke cake into two pieces and then got pair of scales and put one piece in each pan.
Monkey said that he would divide the cake equally for them but when weighed One piece weighed heavier than other.
So, Monkey took a big bite out of larger piece and ate it up. When weighed again other piece began to weigh heavier.
So he bit other piece and tried to make it equal. In this way monkey went to biting first piece then other, till they became very small.
Seeing small piece cakes were alarmed and asked monkey to give back rest of pieces. They said that now their quarrel is solved and they don't need any more help.
But monkey replied that it was reward for his labor and saying this he put two pieces in his mouth.
Cats lost the whole cake and sadly went away.
Moral:
When Two people Fight the third one Gets the Profit.
---
Moral Stories for Kids: Caring for Others