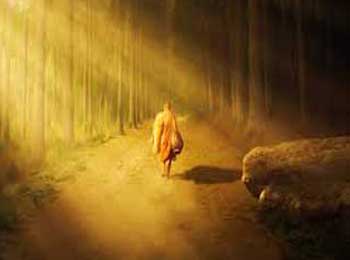 When God created man, he gave him two bundles. God told man to keep one bundle on the front and other one on the back behind on his shoulder. Man left with bags kept the way God said.
God had kept man's own shortcoming in one bundle and shortcoming of other's (world) in the other bundle. Man's own shortcomings were kept in the front bundle and other's in the back.
God also told man to keep eye on the front bundle and not on the back one. Time passed by. Because of this, man kept on improving himself and progressed.
One day after taking a bath in pond, when man picked up those bundles, they got interchanged. Bundle of shortcoming of others came in front and bundle of his own shortcoming was hanged on his back.
Now, man started seeing the shortcomings of others. It's not right.. That's not right… neighbor is useless, the government is incompetent etc. etc. Now, he started finding faults in everyone except himself.
Result was that no one improved but everything started to decline. Man got confused. He couldn't understand what happened.
He went back of God and asked, "You gave me bundles and after i left i was improving and progressing but now nothing seems right. Nothing improves. why?"
God explained, "As long as your eyes were on your shortcomings, you were progressing but as soon as you started seeing shortcoming of others instead of your own and started making fun of others, your downfall started from there."
Learning:
Reality is also that we cannot improve anyone, we improve ourselves, this is our welfare. If we improve, world will improve. We think that peace will be achieved only by correcting everyone, while we do not heal ourselves.
---
You May Also Like: Person at the Door – Heart Warming Story about God
---
Search Keywords: Two Bundles on Shoulder – Man n God Story, Must Read Interesting Story for Adults with Life Lesson, best Story to Share with Family and Friends, Story about Shortcomings, Best Advice for Better Life, Deep Meaning Story with Learning about Way to Live Good Life