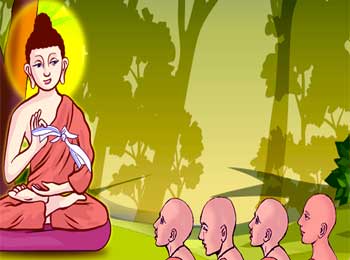 One morning when disciples and people were waiting for Buddha for discourse, they were amazed to see that he had bought something with him. On closer look they saw that he had bought a rope in his hand.
Buddha took seat and without saying anything to anyone, he started tying knots in the rope.
After tying knots, Buddha asked everyone, "I have tied three knots in this rope, now i want to know from you whether this is same rope, which was before knots or not?"
One disciple replied, "This is bit difficult to answer, it really depends on way we look. From one point of view, the rope is same, it has not changed. In another way, now it has three knots which were not there before, it can be called changed.
But it is also worth noting that even though it seems to have changed from outside but from inside it is still same as it was before, it's basic remains unchanged."
Buddha smiled and said, "It is true!"
"Now, i will untie these knots", said Buddha
Then he began to pull two ends of ropes away from each other. While doing this he asked, "What do you think? By pulling them like this, can i untie these knots?"
"No, No. Doing this will tighten knots even more and would make it more difficult to untie them", replied a disciple.
Buddha said, "Okay, now one last question, tell us what we have to do to untie these knots?"
Disciple replied, "For this we have to look closely at these knots, so that we know how they were put on and then we can try to untie them."
Buddha said, "That's what i wanted to hear. I see most of people want to solve problems without knowing reason, real cause of problem.
No one asks me why do i get angry… They ask how to put an end to their anger…
No one asks where did the seed of ego come from in me… They ask how do i get rid of my ego…
Just as rope doesn't change it's basic form even if it is tied in knots, similarly the seeds of goodness do not perish from within a human being due to some disorder.
Just as we can untie the knots of rope, we can also solve human problems. Understand this thing that if there is life, there will be problems too and if there are problems, then there will be solutions too. It is necessary that we know the cause of any problem well, then solution will be achieved automatically."
---
You May Also Like: Buddha Sleeping – Disciple Question
---
Search Keywords: Three Knots in Rope – Buddha's Teaching, Deep meaning Short Moral Stories to Learn a Life Lesson, Buddha and Disciple Stories about Problems in Life, How to Solve Problems Buddha Wisdom Short Stories