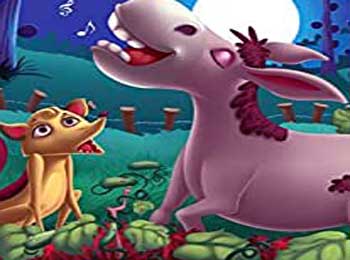 Once upon a time, there lived a washer man who had a donkey. Donkey used to carry loads of clothes to river bank and back to home for washer man. Washer man would give donkey food but donkey was not satisfied with the food he got.
So, he would wander and freely gaze on the green fields but instead of staying just into fields, he would sneak into villagers farm and eat vegetables growing there, before sneaking back home.
One day, he met a jackal and soon they became good friends.
At night, they would roam around fields together. Donkey would break into villagers farm to eat growing vegetables while jackal hunted farm animals.
One night, Both of them went out in a field and found cucumbers. They ate them to full their stomach. They were happy and decided to come daily to full up their stomach.
Once, after a tasty meal of cucumbers, the donkey thought to sing a song.
Jackal asked him not to sing there. he pleaded with him not to sing before they get out of that farm, as they would get caught if he sings there.
However, donkey got annoyed and insisted on singing. he didn't listen to his friends and opened his mouth, began to bray loudly.
Jackal knew that listening to such loud voice, farmer would wake up and they will be caught, so he immediately ran away.
As expected, on hearing donkey's bray, farmer woke up and came rushing out and saw that all his vegetables were destroyed and donkey was there.
Farmer caught donkey and thrashed him for eating vegetables and tied a mortar on donkey's neck and threw donkey away from his farm.
Jackal was seeing all this from distance. When donkey came near, jackal said, "Well. Farmer has given you gift, a necklace for you singing."
The donkey realized his mistake and felt sorry for not listening to the good advice of the jackal.
Moral:
There is Time and Place for Everything. Think before Act.
---
More Interesting Stories: Working with Other..! – Moral Stories for Kids
---
Search Keywords: Panchtantra Short Stories for Kids with Moral Lesson, Musical Donkey and Fox Story