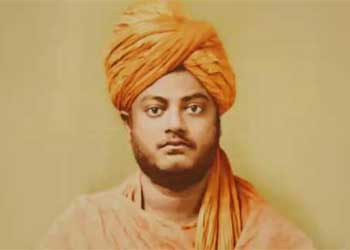 Once Swami Vivekananda ji was in Rajasthan. He walking in desert in thirst and hunger. His body was in pain and scorching heat was taking a toll on his body.
Swami ji tried hard and walked till his body allowed. At last when was not able to walk anymore, he fell down.
At that time, some women from near by village were walking from that way carrying water in pots.
One of them saw Swami ji and rushed toward him to help him. When she went near him, she took some water from pot and helped Swami ji to drink some water.
Just then she took her Safforn dupatta and gave it to swami ji and said, "Son, take this cloth and cover your head with turban as it will help you to cool off your head from further heat.. It will help you to beat the sun.."
After drinking water Swami ji gained conciseness. See that lady Swami ji was filled with gratitude toward that lady and tears came in his eyes.
He said, "Ma Durga, i know it's you.. You always come to my rescue.."
Swami ji knew that Ma Durga (Avatar of Goddess Parvati) came to his rescue in this scorching heat.. Then from that day onward, Swami ji started wearing saffron turban.
Moral:
God is Always there to Take Care of his Devotees. One who firmly Believes in God and devote themselves to Service of God and Mankind, God will always come in one or another form to Help them.
---
You May Also Like: God is Always There for You
---
Keywords: Swami Vivekananda Story – Believe in God Motivational Real Life Stories, Trust in God Short Stories of Famous Personalities