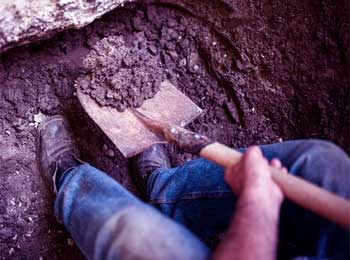 One day a farmer's oxen fell into the well. Farmer tried to pull it out but even after trying for hours oxen was not able to get out of well.
At last farmer got tired. Oxen was quiet old and it was not of much use. So farmer thought that he should bury that oxen in that well as even if he leave it there, its gonna die of hunger anyways.
Farmer looked around and saw a lot of mud around there. So took a shovel and started throwing mud inside well. As soon as oxen figured out what's happening, it started mourning. Even after listening to mourning of oxen, farmer continued throwing mud on the oxen in the well.
After sometimes, Oxen got calm and farmer didn't hear it crying. Farmer thought to himself that may be oxen got unconscious and continued to throw mud to cover the well. After sometime farmer looked into well and to his surprise oxen had reached edge of well. able to reach edge of well.
He saw that with every shovel of mud thrown over it, Oxen calmly shook it from it's back and little by little it was climbing it's way up with help of mud that was thrown over it.
At last with continues effort oxen came out of well and ran away.
Moral:
In your life you will meet lots of people who will try to put you down in one or the other way. Mud will be thrown on you in my ways to prevent you from proceeding. You will meet many people who will envy your success.
Some people may follow those paths which are against your ideals to put you down.
In such a situation instead of feeling Discouraged you have to drop all kinds of dirt thrown at you with COURAGE and learn from it.
Make it a ladder without sacrificing your ideals and keep moving forward with Positivity.
SOMETIMES WHEN THINGS ARE FALLING APART, THEY MAY ACTUALLY BE FALLING INTO RIGHT PLACE.
---
More Encouraging Stories – Facing Obstacles in Life..
---
Keywords: Stories about Overcoming Obstacles – Classic Stories with Moral Lesson for Kids, Keep Moving Forward with Positivity Motivating Story