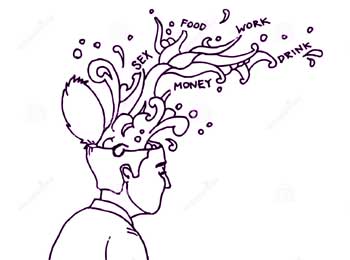 Once a man went to his Guru and said, "Guru ji, flow of my thoughts is bothering me a lot. Please help me."
Guru gave him address of another Sadhu and said, "Go and look carefully at his overall life-style. There you will find solution to your problem."
Man went to Sadhu house and told him, "My Guru ji asked me to live with you and learn about your routine."
Sadhu agreed and let him live with him. Sadhu used to live in a inn and man started living with him.
Man saw that Sadhu life style was ordinary and there was nothing special to learn from his life style.
Man used to talk to him but here didn't find anything to learn from talks either. Man thought that Sadhu was very simple and seemed innocent like a child but there was nothing special in his routine.
Only thing that man couldn't understand was a part of his routine. Sadhu used to wash all the utensils at night and wash those clean utensils again in morning.
One day man asked about it to Sadhu. To which Sadhu replied, "I do this because It is necessary to take care that utensils are not dirty and dusty. Since a little bit of dust settles again in them during the night, i wash them again in morning."
Sadhu then told him, "Similar is your problem. Clean your mind at night and wash it again in morning. Gradually the mind will become pure. Regular cleaning of mind is very important to live a happy life."
---
You May Also Like: Two Words Rule at Monastery! A Complaining Mind
---
Search Keywords: Stop Flow of Thoughts! Man n Sadhu Story, Deep Meaning Story about Peace of Mind, Sadhu Lesson to Man Worried about his Thoughts, How to Bring Peace to Mind Short Story with Lesson for Life