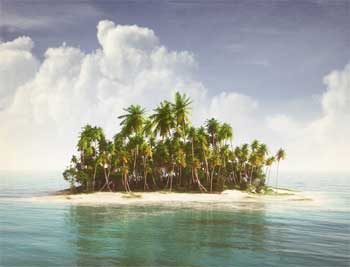 Once a Archbishop became very much annoyed because of three people who had become known as saints and used to lived on small island.
Archbishop got very jealous and angry that without sanction these people were started to known as saints and thousands of people were going to island to get their blessings.
One day, he finally decided to go and see what kind of people were these, who got known to people as saints.
When he went there, he saw that there were three people who were living on that small island. It was early morning, those three were sitting under a tree and looked simple, illiterate type.
Archbishop was nervous before but now when he saw them, he thought to himself that people who came here to get blessed by these people were idiots as for him they were nothing more than poor people.
Archbishop went to them and said, "Do you think you are saints?"
They replied, "How can we think of such high things? We are uneducated, illiterate poor people, not saints. But what can we do? People keep coming. We try to prevent them from coming and ask them to go to you but they don't listen."
Archbishop questioned with authoritative tone, "What is your prayer?"
They looked at each other and then one of them said, "We feel very embarrassed because it's not a real prayer. We made it ourselves."
When Archbishop insisted, they said their prayer, "You are three, We are three, have mercy on us."
Listening to this Archbishop laughed and said, "This is your prayer??"
They said, "We are ready to learn, if you teach us right prayer, proper prayer, we will try it but it should not be long because we may forget it or may make mistakes, get confused. Our prayer is simple, we can't forget it or make any mistake in it."
Archbishop read whole prayer of orthodox church but it was too long so they asked him to repeat it.
Archbishop was happy to know that they don't even know prayer. he thought to himself, now i can convince people that they know nothing, not even prayer of church.
When Archbishop was about to leave, they thanked him and said, "You could have just sent a message and we can come to you."
Very happy and contented, archbishop left. When he was just in middle of lake. He saw those running on water, coming toward him, saying, "Stop! We have forgotten prayer. Please tell us once more."
Archbishop looked at them – they were standing on water, running on water.
He said, "Forgive me. Your prayer is right, you continue your prayer. Your prayer has reached, my prayer has not reached. Your are really saints, it does not matter whether church has sanctioned you or not.
Sanctions are needed by those who are not really saints. Your very existence proves it. Just forgive me, that i interfered in your life."
Learning:
With Purity of Heart, with Serenity of the Mind, with Calmness, even few words can become Prayer.

Existence has allowed Enlightenment in so many different ways to people, all that we can say is that certain Qualities – not very particular methods but certain qualities – when they come to m

eet within you, Function not as a cause but something happens because of their Presence.
---
You May Also Like: Zen Master's Best Short Stories
---
Search Keywords: Spiritual Enlightenment – Archbishop and Saints Divine Awakening Story, Archbishop Arrogance Story about Judging Others