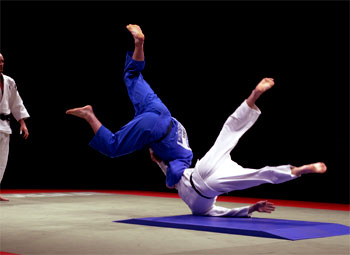 A 10 year old boy wanted to learn Judo but he lost his left arm in an devastating car accident. Despite the fact that he lost his arm he was determined to study judo and went to master and requested him to teach judo.
Boy began his lessons with an old Japanese Judo master. Even after 3 months training master was teaching him just one move. Boy was confused that even after 3 months of training why his master is not teaching him any other move..
Finally one day boy went to his master and asked, "Sensai.. Shouldn't i be learning more moves??"
Sensei(Master) replied, "This is only move i know and this is only move you will ever need to know.."
Boy didn't understand what his master meant by this but believing in his master he kept on training and practiced that move.
After sometime his Sensei took boy to his first tournament.
Boy won first 2 matches very easily with his opponent but in third match his opponent seemed to get angry and charged on to him with his full strength but boy won even third match with only move he learned.
Boy was amazed and surprised by his success. One after another match boy kept on winning matches with just that one step. At last he was in final of tournament.
In his final match his opponent was bigger and stronger than all other opponents he faced till now. Boy appeared over-matched in front of his opponent. Match referee was concerned that boy might get hurt and asked if match should be continued. Master asked referee to continue the match.
Soon after the match resumed, his opponent made a critical mistake: he dropped his guard. Instantly, the boy used his move to pin him. The boy had won the match and the tournament. He was the champion.
On way to home boy gather his courage and questioned, "Sensei, how did i win tournament with only one move?"
Sensei replied, "You won for two reasons.. First, You have mastered one of the most difficult move in judo and Second, the only known defense for that move is for your opponent to grab your left arm.
Now boy understood that his biggest weakness has become his biggest strength.
Moral:
We should not let our Weakness to take Control of our life. We should Believe in our self and continue to Work Hard toward our Goal and with Hard work we can Turn our Weakness into Strength.
---
More Motivational Stories – Facing Adversity..?
---
Keywords: Short Story about Strength and Weakness – Inspirational and Motivational Stories for Kids, Hard Work and Believe in Yourself Story