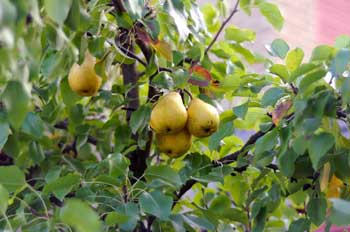 An old man had four sons. He wanted his sons to learn a very important lesson for life.  So he decided to sent each of them for a quest.
He asked them to go and look at a pear tree that was far away from main land. He instructed them that only one will go at a time.
So when the Winter came he asked his eldest son to go and take look at pear tree. Similarly he asked his second son to go there in the Spring. Third one was sent there in Summer and Old man asked his youngest son to go there in the fall.
When they all had gone once there and come back. He asked all of them to come to him and describe him about what they had seen.
His all four sons stood in front of him and started to share what they had seem..
Eldest one said, "Tree was ugly and it was bent and twisted."
Second son interrupted and said, "No, It was covered with green buds."
Third son disagreed and said, "It's blossom smelled really sweet and looked so beautiful. It was the most beautiful thing i have ever seen in my life."
Youngest son disagreed with all of them and said, "It was ripe and fruits were dropping. It was looking full of life and fulfillment."
After listening to each one of them old man said, "No one is wrong. All four of you are right. Each of you have seen only one season in tree's life, therefore you said what you saw the condition of tree at that time of season. Just like tree condition changed with time similar is with human's. We should not judge someone by only one point of their life. That's what i wanted you to learn."
He continued, "If you give up when it's winter, you will miss the promise of your spring, the beauty of your summer, fulfillment of your fall."
Moral:
The essence of someone, Who they are.. Pleasure, Joy and Love that we get from life can be only Measured at the end when all the Seasons are summed up.
---
You May Also Like: Knots in Relationship? Buddha Teaching
---
Search Keywords: Short Stories on Judging Others – Best Moral Story About Change in Life, Life Lesson by Old man to His Four Sons