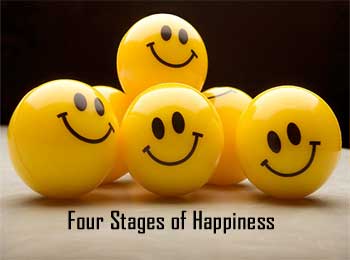 Once a billionaire was invited for interview. Interviewer asked, "Sir, what was the time when you felt happiest in your life?"
At this billionaire replied, "I have gone through four stages of happiness in life and finally I understood the meaning of true happiness.
First stage was when i accumulated wealth and resources. At this stage i was very happy but i didn't got the happiness i wanted.
Then came second stage when i started collecting valuables and rare items but i realized that this is also temporary and luster of precious things doesn't last long.
Then came third phase, it was when i got big project and at that time i had control over 95% of the petroleum supply in my country and also became the largest shipowner in Asia and Africa. But even at that time i did not get the happiness that i had imagined.
Then came fourth stage..
It was when a friend of mine asked me to buy wheelchair for disabled children. At behest of friend i immediately bought those.
My friend insisted that i must go with him and handover wheelchairs to those children myself. Because he insisted again and again i agreed and got ready and went with him.
When i reached that place, i gave wheelchairs to all those children myself. When i was handing over them those wheelchairs, i saw a strange glow of happiness on faces of these children. Later, i saw them all sitting in those wheelchairs and moving around, having fun.
Scene was as if we were all at picnic spot and they were all sharing their happiness.
At that time, i felt happiness inside me. When i was about to leave, one of those kids grabbed my legs tightly.
I leaned over and asked him – Do you need anything else?
Kid replied – No, i just want to remember your face so that when i meet you in heaven, i can recognize you and thank you once again..
This answer not only shocked me but also completely changed my outlook towards life. At that time i felt i was really happy and realized what real happiness is."
Learning:
Bringing Happiness to Others brings True Happiness to oneself.
---
You May Also Like: Benefits of Helping Others..! – Short Stories
---
Search Keywords: Rich Man Interview – Happiest Time of Life..!, Story to Motivate about Helping Others, Rich Man Short Story about True Happiness, Inspiring Story, Help Others Story with Learning for Adults