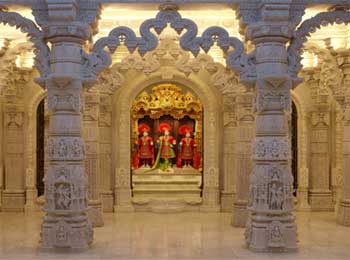 At 2 o'clock in night, a rich man couldn't sleep. He kept walking around the house but still was feeling unrest. After a while, he got exhausted and took out his car and went out on streets of city.
On way, he saw a temple and thought – If i go to temple for a while and sit there and pray, may be then i will find some peace.
When rich man went inside temple, he saw that a person was already sitting in front of idol of God. He was looking sad.
Rich man asked him – Brother, why are you sitting here, at such time? What's wrong? Why are you sad?
Man replied – My wife is in hospital. If she doesn't get operate in morning, then she will not be able to survive and die. I have no money for operation.
After listening to him, rich man put his hand in pocket and gave all the money he had in his pocket to that man.
Poor man felt relived. After giving money, rich man took out his card and giving to poor man saying – It also have my phone number and address, if you need anything else, feel free to contact.
Poor man returned the card and said – I have his address sir. This address is not needed.
Rich man was surprised and asked – Whose address?
Poor man replied – Address of one, who sent you here at 2:30 in night, so that i can get money for my wife operation.
Learning:
Keep unwavering faith in God, Keep doing your work. Whenever there is a need for help, God will Come in some form or the other and Show the way out of Difficult times.
---
You May Also Like: Person at Door – Heart Warming Story about God
---
Search Keywords: Rich Man Help to Poor Man at Temple, Story about Faith in God, Always Keep Unwavering Trust in God Heart Touching Story, Beautiful Story about God Ways to Help his Devotees, Story to Motivate One to Keep Hope in Difficult Times, Best Story to Read while Going Through Difficult Times