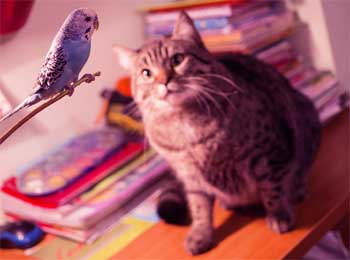 A gentleman who was very religious, had kept a parrot at his home. He used to love him a lot and took good care of that parrot.
One day, while man was at distance from parrot, suddenly a cat came and pounced on that parrot and killed it right there. Man saw that but couldn't save his parrot.
Seeing this, he started crying profusely.
Just at that time, one of his neighbor came to visit him, when he saw him crying like that, he asked, "Why are you crying so much?"
He replied, "My parrot died.."
Neighbor said, "Don't worry. You can get another parrot." and tired to calm him down.
Man stopped crying a little and said, "I am not crying because my parrot is no more.."
Neighbor was confused and asked, "Then why are you crying?"
Man replied, "Actually, thing is, i taught my parrot to say God Krishna name and it even learned many bhajans and used to sing them all the time.
But today when cat pounced on him, my parrot forgot everything i taught him and started crying and died.
I also read hymns and stories and take God name all the time but now i am worried that when Yamraj pounces on me ( My end time come), I don't know whether God name will come out of my mouth, will i be able to speak God name at my end moments or will tear up like parrot."
Learning:
That's why Great man says that We should always think about God and make sure to listen to God's stories and philosophy all the time, we should always see, think and talk about God, so that at end time we think about God only.
---
You May Also Like: Question about God – Saint and Disciple Story
---
Search Keywords: Religious Man Teaching and His Parrot Story, What to Remember at Last Moments of Life Short Story with Teaching, How to Train and Control Your Mind Moral Story, Spiritual Story with Important Teaching for Life, Always Keep God Name in Thoughts Short Story, Simple Story with Deep Meaning