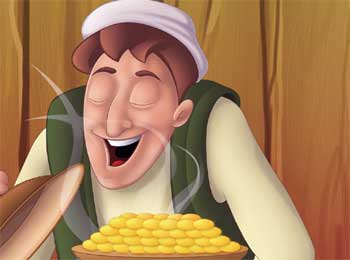 Once there was a farmer who was returning home, after working in his fields. On his way there was sweet shop.
Farmer was tired and hungry. When he walked by sweet shop, he couldn't resist sweet aroma coming from sweets shop. He wanted to buy sweets but he didn't had enough money to buy sweets.
So, he decided to stand near shop for sometime and started enjoying aroma of sweets.
When shop owner saw farmer enjoying aroma of sweets, he didn't like that and went to farmer and asked him to give money.
Farmer got shocked and said, "But i have not bought any sweet nor tasted them, then why?"
Shop owner replied, "Even if you have not taken sweets but still you have enjoyed fragrance of sweets i made. Enjoying aroma of sweets is same as eating sweets, so now you have to pay."
Farmer got little nervous at first but then he thought of something and took out some coins from his pockets and tucked them in between his hands and shake them.
After doing this, he started going his way.
Seeing this, shop owner stopped him and said, "Stop. You can't leave without first paying."
Farmer replied, "Just as you said, enjoying scents is equivalent to eating sweets, similarly listening to clinking of coins is also equivalent to taking money."
Moral:
Many times in Life you will get to meet people like shop owner, at such times do not panic and Think wisely. Quick and Wise Thinking can help you get out of difficult Situation.
---
You May Also Like: Rich Farmer and Daughters Story
---
Search Keywords: Price of Sweet Smell – Shop Owner and Farmer Story, Quick and Wise Think Short Moral Stories for Kids, Tit for Tat Stories