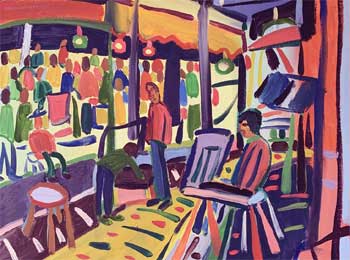 A famous painter lived in a city. Thousands of people used to come to see his painting exhibition in the country and would not get tired of praising his work.
Once he thought that what if people praise him only on his face and find fault in his work behind his back.
Thinking this, he put a famous painting made by him early in the morning, in a busy square of the city and wrote below:
Whoever sees any mistake in this painting, put a mark at that place.
In the evening, when he went to the crossroads to see the painting, his eyes were filled with tears because there were hundreds of marks on the painting.
He became very disappointed and quietly picked up that painting and went to his house. This incident had a very bad effect on him. He stopped painting. He started shying away from meeting people.
One day, one of his friends asked the reason for his disappointment. Painter narrated the incident of that day with a sad heart to his friend.
After listening to that his friend said, "You should do this once again. Keep a painting made by you at that crossroads."
Next morning he put a new painting on the crossroads. After applying the painting, the painter was going to write the same line under it again that "Whoever sees any mistake in this painting, put a mark at that place."
That's when his friend stopped him and asked him to write:
Whoever sees any mistake in this painting, correct it.
In the evening when both the friends went to see that painting, they saw that the painting is still the same as it was in the morning. There was no change.
Friend smiled and said, "Understood something? Any fool can make mistakes and most fools do but there are very few who correct those mistakes.
There is no use in needlessly taking the opinion of people who only and only want to make fun of others or want to humiliate them. But they have neither the time nor the knowledge to improve them.
That's why the mistake is not in your picture but in seeking advice from such people!"
The painter had understood the point of his friend and now he again started doing his favorite work. He started making paintings.
Learning:
We should not take from anyone or everyone. If we have to take advice, then take advice or feedback from experts in that field. We should avoid being that person who only knows how to make mistakes. We should become that person who can rectify the mistake of others and make their life positive.
---
You May Also Like: Two Diaries – Husband Wife Heart Touching Story
---
Search Keywords: Painting at Crossroads – Pointing Others Mistakes, Painter and his Friends Short Inspirational Story to Share, Finding and Correcting Mistakes Story, Learning Story for Adults, Never get Discouraged Story with Life Lesson