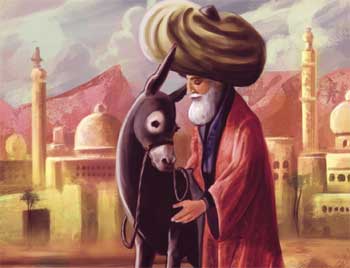 Story 1: Violation of Principles..!!
Once a very famous philosopher was traveling and he came to Nasruddin's village. He went to his home and after they both meet, philosopher asked Nasruddin about a good place to eat in his village.
Nasruddin suggested him a place. Philosopher also wanted have conversation with Nasruddin so he Invited him to join him to eat. Nasruddin was obliged and accepted the invitation and accompanied philosopher to the place.
When they sat there, Waiter came. Philosopher asked waiter for today's special.
"Fresh Fish", waiter replied.
Philosopher replied, "Bring us Two."
After few minutes, waiter came back with a large platter with two cooked fish on it. There was one larger fish and other was bit smaller. Nasruddin took the larger one and kept it in his plate without any hesitation.
Philosopher looked at him with disbelief and started to tell him that how selfish he acted and almost violated the principles of moral and ethical systems. Nasruddin listened to him patiently and when philosopher was exhausted, Nasruddin asked him, "Well, what would you have done??"
Philosopher replied, "I being a conscientious person would have taken the smaller one for myself,"
"And here you are, " Nasruddin said placing the smaller fish in philosophers plate.
---
Story 2: Nasruddin Preaching at Village..!!
Nasruddin used to preach at a villages on Friday's only.
Once day he had nothing to preach about, so he asked congregation, "Do you know what i am going to discuss today with you?"
People replied, "No."
"Then i refuse to teach such ignorant people who dont even know given the event in past week.!!" said Nasruddin and left assembly.
Next Friday he went to village and asked, "Do you know the subject for discussion today?"
This time people were fearing about repetition of previous week so they replied, "Yes. We know."
"Well then, there is no point in telling you what you already know.." Said Nasruddin and left.
Next friday he went to assembly and asked, "Do you know what i am going to discuss about?"
Not knowing what to say some said yes and some said no.
"Good, then.. Those who know can tell to those, who don't know." Said Nasruddin and left.
---
You May Also Like: Being a Nobody/ Boatman and Scholar Story
---
Search Keywords: Nasreddin Short Stories – Witty Reply Funny Short Stories, Humorous Nasrudin Hoja Persian Folktales and Stories