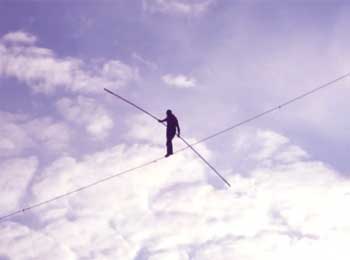 Once a man was walking on a rope holding a long bamboo stick. He had his son sitting on shoulder while doing this.
Hundreds of people were watching this with bated breath.
Man was carefully taking steps, battling strong winds, risking his life and his son's life.
When man walked over the rope and reached the end point completing whole distance. Crowd jumped with joy, started clapping and whistling seeing his breath taking performance.
People were taking photos with him and were shaking hand with him.
Now, man came to mic and asked the crowd, "Do you believe that i can do this again?"
Crowd shouted, "Yes."
Man asked again, "Do you have firm faith?"
Crowd shouted, "Yes, sure. We can even bet that you can do this feat successfully, again."
Man said, "You have complete confidence in my skills, isn't it?"
Crowd replied, "Yes."
Man said, "Ok. then someone from the crowd please give me your child. I will carry him on my shoulder and walk on the rope."
Hearing this, silence spread among people.
Man said, "Are you scared? But just now you said that you believe that i can do this again successfully.
You have confidence but don't trust or have faith that i can do this. That's why you got worried and stressed and got silent."
Learning:
Similarly, in Life, People do believe in God but Do not have Complete Faith.
---
You May Also Like: Burning Hut on Island – Man Complain to God!
---
Search Keywords: Man Walking on Rope – Story about Faith in God, Interesting Story with Valuable Lesson to Learn, Short Story to Make You Think, Have Complete Faith in God Motivational Story, Story to Motivate Adults to Trust God, Story to Share with Family and Friends, Deep Meaning Story, Learning for Life, Best Story about Believe and Faith in God