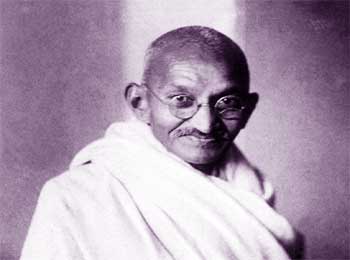 Mahatma Gandhi is Revered the world over as one of most Inspirational Figures. Throughout his Life, He was a Fearless Campaigner for the Rights and Dignity of all people and Unwavering Promotion of Non-violence.
---
Be the Change that You want to See in the World.
An Ounce of Practice is Worth a Thousand words.




A Man is but a Product of his Thoughts. What he Thinks he becomes.
The Future depends on, What you do Today.
Glory Lies in the Attempt to Reach one's Goal and not in Reaching it.
Satisfaction lies in the Effort, not in the Attainment.
Live as if you Were to Die Tomorrow. Learn as if you were to Live Forever.
Nobody can Hurt me Without my Permission.
The Best way to Find yourself is to Lose yourself in the Service of Others.
A Man's true Wealth hereafter is the, Good he has Done to his Fellowmen.
I will not let anyone Walk through my Mind with their Dirty feet.
Self-respect knows No Considerations.
A Courageous man Prefers Death to the Surrender of Self-respect.
One cannot Conceive of a Greater loss than the Loss of one's Self-respect.
They cannot take Away our Self-respect if we do not Give it to Them.
To Lose Patience is to Lose the Battle.
Doubt is Invariably the Result of want or Weakness of Faith.
It is Health that is Real Wealth and not Pieces of Gold and Silver.
Anger and Intolerance are the Enemies of Correct Understanding.
To Believe in Something and not to Live it, is Dishonest.
In Matters of Conscience, the Law of the Majority has No place.
It is Wrong and Immoral to Seek to Escape the Consequences of One's Acts.
Distinguish between Real Needs and Artificial wants and Control the Latter.
Action expresses Priorities.
In Prayer it is Better to have a Heart without Words than Words without a Heart.
It's not too Late at all. You just Don't yet Know what you are Capable of.
Life is but an Endless Series of Experiments.
Honest Disagreement is often a Good sign of Progress.
It's Easy to Stand in the Crowd but it takes Courage to stand Alone.
Service without Humility is Selfishness and Egotism.
---
You May Also Like: Generosity – Mahatma Gandhi Story
---
Search Keywords: Mahatma Gandhi Quotes – Life Changing Motivational Quotes by Leaders, Short Quotes on Self Respect by World Famous Political Leader