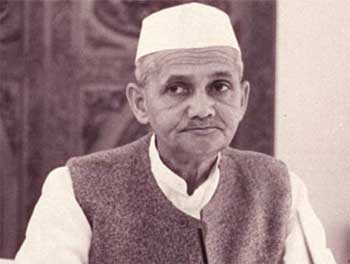 Once Shri Lal Bahadur Shashtri ji went to a textile mill and he was accompanied by owner of mill.
After going around mill, Shashtri ji went to see warehouse of that mill. There he saw some sarees on display.
Seeing those, Shashtri ji requested owner of mill to show him some sarees. Owner was happy with his request and asked his salesman to bring best sarees to him.
Owner showed him various kinds of sarees and each one of them were unique and of high quality.
Shashtri ji liked one of those sarees and asked owner about its price. Mill owner told him that cost of that saree was 800rs.
After knowing saree cost, Shashtri ji said, "This is too expensive. Can you please show me sarees which are less expensive.."
Owner asked his salesman to bring little less expensive sarees to him. So the mill owner started showing him other sarees, quoting prices like Rs.500, Rs.400 and so on.
Shashtri ji said, "These are still too expensive.. Are there cheaper sarees which a poor person like me can afford??"
Owner was surprised by his response and said, "But… You are Prime Minister of India. How can you be called poor?? Moreover, You don't have to pay for any saree you take because this would be a gift for you.."
"No.. My dear friend, I can't accept such expensive gifts..", replied Shashtri ji.
Owner still insisted that it was his privilege that Prime Minister of India visited him and in return he want to offer saree as gift.
To this Shashtri ji replied, "Yes, I may be the Prime Minister, but that does not mean that I should accept all those things that i cannot afford and give them to my wife. Although, I am a Prime Minister, I am of limited means. Please show me some cheaper sarees. I will buy those that I can afford."
Finally Shashtri ji purchased a cheaper saree which he could afford for his wife.
Lal Bahadur Shastri ji was so honest and noble that temptations could not sway him at all.
---
You May Also Like: Be Proud of Who You Are
---
Keywords: Lal Bahadur Shashtri Story – Inspirational Stories of Indian Personalities, Prime Ministers of India Real Life Stories for Kids