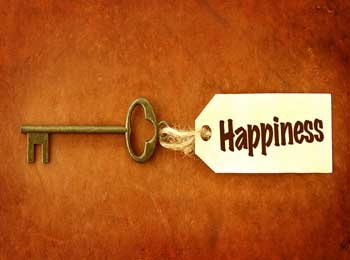 Once there was a King who had everything, a prosperous kingdom, kind wife, good children but still was sad.
Once while roaming, he reached a small village where potter (a person who makes pots, dishes, etc. from baked clay) was selling pots outside the temple and at his stand, some pots were filled with water and potter was singing hymns while lying near by his stand.
King came to temple and after coming out of temple, he saw potter and sat near him. Potter offered water to King with respect.
King was somewhat impressed by potter behavior. Sitting beside him, King started thinking about potter earning.
Thinking about it, King said to him, "Brother, will you come with me to the city?"
Potter replied, "What will i do after going to the city?"
King said, "Well, there you can make lots of pot, lot more than you make here."
Potter asked, "Then what will i do with those pots?"
King replied, "You will be able to earn a lot of money by selling them."
Potter asked, "Then what will i do with that money?"
King surprised by his question, said, "What will you do with money?? Money is everything."
Now, potter asked, "Now, you tell me what i will do with that money?"
King said, "You can live a comfortable life and then worship God comfortably."
Listening to this, potter question to King, "Sorry, But you tell me, waht i am doing right now?"
King got silent, as if this question shocked him.
Then after a while, King said, "Yes, you are worshiping God comfortably at this time and as far as i can see you are in complete bliss."
Potter smiled and said, "Yes. That's what i am telling you that happiness can't be bought with money."
King got curious and asked, "Please tell me how to attain such happiness.."
Potter replied, "Listen carefully, Reverse your hand."
King asked, "How is that?"
Potter replied, "O King! Do not Ask, Learn to Give.. if you have learned to give then understand that you have stepped on the Path of Happiness.
Abandon selfishness and choose charity..
The biggest reason for most people's sorrow is that Whatever they have, they are not happy in it and they are sad about getting what they don't have.
Learn to be happy in what you have, sorrows will go away on their own."
Learning:
There is No Greater Happiness than Self-satisfaction. The one who has wealth in the form of satisfaction is the happiest person and he is in joy and he is the king in true sense.
---
You May Also Like: Where is Happiness Hidden? Short Story
---
Search Keywords: King Offer to Potter – Story about Happiness, Path to Happiness Story, King and Potter Conversation about Secret to Happiness Short Story, Importance of Self Satisfaction for One's Happiness