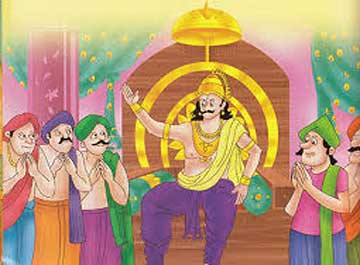 Long ago, lived a wise King. King wanted to appoint a new chief minister for his kingdom, so he decided to test wisdom of three ministers whom he found capable of becoming one.
Next day, early morning, he called all three ministers to his chamber and said to them, "I want you all to bring me as many young animals as you can from the forest. I want to keep them in royal zoo and all you have one day for this task."
Soon, those three ministers set out to forest in search of young animals. Ministers went to different forests. In evening they came back.
When King ask them to show what they could find. First minister bought five young elephant calf and two bear cubs to court. Second minister bought two tiger cubs and 2 elephant calf to court.
When King looked at third minister, he was surprised to see that he came empty handed.
King asked him, "Why have you return empty-handed?"
Minister replied, "Your highness, these animals are too young to be separated from their mothers. In fact, their mothers would also miss them terribly. When i thought about this, i didn't have heart to separate young one's from their parents to bring them here."
Listening to this King smiled and knew that third minister would be right choice for chief minister's post.
King said, "I am glad that you were so thoughtful about these animals. I was only testing three of you."
King thanked all three ministers and because of third minster's kind gesture, King declared him to be chief minister of his kingdom.
Moral:
Positive thoughts and action leads to Positive result.
---
You May Also Like: King Punishment to Servant!
---
Search Keywords: King and Three Ministers Test Story, Be Kind and Thoughtful of Your Actions towards Animals Short Story for Kids with Moral Lesson