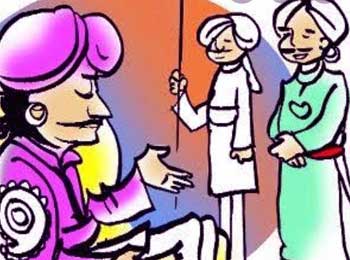 Once there was a King who used to take care of his people very well. He was famous all around for his work in his kingdom.
King used to go to villages and listen to problem of people and tried to improve their living situations and help them to overcome those problems as much as possible.
One day, when King was gone to a village to talk to people about their problems. During his visit, a button of his shirt broke.
King immediately asked his minister to go and look for a good tailor from the village, he was visiting.
Immediately search was made and incidentally there was only one tailor in whole village who had a small shop in village itself.
Tailor was bought to the King.
King said to tailor, "Can you stitch button of my shirt?"
Tailor replied, "Yes, Maharaj. I will do it immediately."
Just then tailor took button from King and took out thread from his bag and stitched button on King's shirt.
King was happy and asked to tailor, "How much should i pay you for this work?"
Tailor replied, "Maharaj, it was a small work. I cannot take money from you for this."
King again said, "No, if you ask right, we will definitely pay you for this work."
Tailor thought, "King already had button and I only used my thread, so i should ask for 2 rupees for this work but then again what if I ask 2 rupees from King and think that tailor is asking so much for such little work, what if King thinks that if I am asking this much money from King then how much he must be demanding from locals."
Thinking all this, at last tailor said, "Maharaj, you give me whatever you think is right."
Now, King had to give according to his reputation, thinking this, King asked minister to give two villages to tailor as payment for his work.
Now, tailor thought, "I was going to ask 2 rupees for this where as King made me owner of 2 villages."
Learning:
When we think, we think according to our own capacity and ask God for something in our status But what we don't know is, God wants to give us something good according to his Ability to Give.
In Bhagawat Gita, Lord Krishna said, "Do Karma, do not Desire for Fruit."
---
You May Also Like: King and His Minister – Trust God
---
Search keywords: King and Tailor – Motivational Heart Touching Deep Meaning Moral Stories for Adults, Trust God Learning Story with Moral