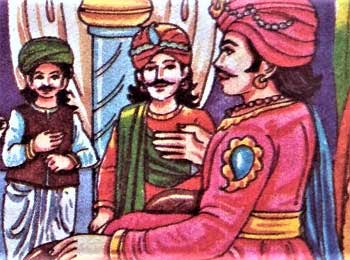 It is a psychological truth that whatever emotion is in our mind, the same feeling comes in the mind of the other person. A historical incident is heard in this regard which is as follows:
---
Once a merchant entered court of Raja Bhoj. When King saw him, he thought, "Everything should be taken away from this merchant."
After a while merchant left.
King thought to himself, "I always give justice to people. Why did this unjust feeling came to my mind?"
He questioned same to his minister.
Minister replied, "I will be able to give the correct answer after few days."
King agreed.
Minister was of extraordinary intellect. Without wasting any time he went to meet that merchant and befriended him.
Then, he asked merchant, "You are doing sandalwood business with brings big profit. Then why do you look so worried and sad?"
Merchant replied, "I have been filling many vehicles with sandalwood and took them to many cities and sold them. Now, i came to this city with loads of sandalwood to sell but this time sandalwood was not sold at all. A lot of money is stuck in this. Now, there is no way to escape the loss."
Hearing those words, minister asked, "Really? Is there no way left now?"
Merchant laughed and said, "If King Bhoj dies, then all the sandalwood can be sold for his cremation."
Minister got answer to King's question.
Next day, minister told me merchant that they would need 20kg of sandalwood daily for cooking King's food and he will be given payment at time of delivery daily.
Merchant was very happy to get order from minister and from that day on wards he started wishing for King's long life.
After some day, merchant again appeared in front of King. This time King started thinking, "What an attractive person he is, what reward should be given to him?"
When merchant left.
King called his minister and asked, "Minister, when merchant came for first time, i asked you something and you have not answered it yet.
Well, when i saw him today, my thinking changed. I don't know why but today i was happy to see him and wanted to reward him."
Minister was just waiting for this moment.
Minister smiled and replied, "King, I am going to answer both your questions today. When he first came, he was thinking of your death so that he could sell his piles of sandalwood.
But now he sells that wood to royal kitchen to cook food for you everyday, so he wishes for your long life everyday.
That's why earlier you wanted to punish him and now, you felt like you wanted to reward him."
Learning:
We can learn from this story that Always keep a Positive Attitude towards others.
---
You May Also Like: Positive Thinking – Traveler's Thought
---
Search Keywords: King and Merchant Story – Change in Thinking, Interesting Deep Meaning Story to Make you Think, Always Keep Positive Attitude towards Others Short Moral Story, Historical Indian Stories to Motivate for Good Thinking