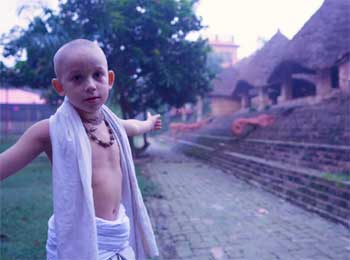 Once a man was passing by a Gurukul. He saw that a ten year old child was surrounded by some younger kids.
Man stood there watching them. When younger kids left. Man went to ten year old kid and said, "What were you doing?"
Kid replied, "I just taught them in their first class."
Man was surprised to see that such a small kid was taking class. Out of curiosity, he asked, "What were you teaching them?"
At this Kid questioned him back, "What did you learned in your first class?"
"I learn to read alphabets and numbers. What did you teach them?", man asked again.
Kid replied, "I taught them – How to breathe."
Man couldn't understand and asked, "Why?"
Kid asked, "When you get stressed – what changes?"
Man replied, "Your breath?"
Kid said, "Yes. What changes when you get angry? Your breath. We experience every emotion with the change of breath.
Breath is only thing that stays with you from the moment you are born and stays with you until the moment you die. And when you learn to manage your breath, you learn to navigate any situation in your life better."
---
You May Also Like: Seth and Ghost Story – Deep Meaning (Must Read)
---
Search Keywords: Kid Teaching at Gurukul – Way to Live Better Life, Control Your Breath Motivational Story, Way to Learn to Live vs Learning Way to Earn Living Short Story with Deep Meaning, What to Learn Interesting Short Story