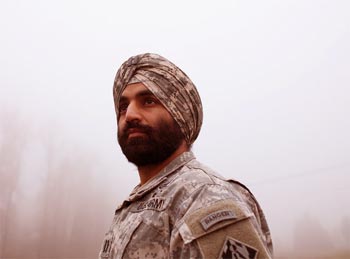 Once a Sikh young man was traveling in first class of an airline. After flight took off, air hostess came to him and offered him complimentary drinks as per airlines guidelines.
Air hostess bought an alcohol drink, young man refused for that drink. Air hostess returned with that drink to her kitchen. After sometime she came back with another alcohol drink better looking than drink she had before.
Young man declined politely again for the drink. Air hostess felt surprised and bit troubled by this.
Air hostess took it to pride and wasn't able to accept no for service and drink offered to young man. So, Just after a while she came back with more decorated drink and presented it to young man but again young man refused.
Air hostess asked, "Sir, you feel a lack of service in the bid that due to which you are not drinking? This is complimentary.."
Young man replied, "I am follower of Satguru and i don't drink alcoholic drinks."
Air hostess still insisted him to take drink.
Young man replied, "Ok, if you insist so much i will drink but only on one condition, first ask your pilot to have this drink.. only then i will accept.."
Air hostess looked at him and with hesitation replied, "But sir he is on duty and if he drinks it then there is chance of plane crash.."
Young man smiled and replied, "As you pilot can't drink on duty.. similarly is with me.. I am always on duty and my duty is that I have to adhere to the words of my guru, as if your pilot is to save the plane in every situation, in the same way I have to save my faith."
Air hostess felt ashamed for her behavior and apologized.
---
More Faith Stories – Facing Difficulties in Life..!!
---
Keywords: Inspirational Sikh Stories – Short Moral Stories about Faith and Duty, Always on Duty Heart Touching Motivational Story