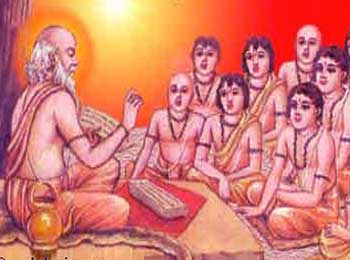 A Saint used to live with disciples in his small ashram. One day while teaching his disciples, he went out and came back with man who was passing by from near by road.
When passer by came, saint asked him, "What would you do if you found a bag full of gold coins lying on your way?"
Man said, "I will pick it up and immediately try to find it's owner and return it. And if not able to find owner, i will deposit it in the Kingdom treasury."
Saint laughed and sent of the passer by.
When passer by had gone, saint said to this disciples, "This man is a fool."
Disciples were very surprised and said, "What's are you saying Guru ji? What this man said was the right thing to do because It has been taught to everyone that if we find anything like this, we should return it to the rightful owner."
Saint didn't said anything and after a while he again brought someone else inside and repeated same question to him.
This person replied, "If i find bag of gold coins lying around, i will keep it for myself."
Saint asked, "Would you not like to return it to it's owner?"
Person angrily replied, "Do you think of me as a fool? Why would i return it? I will keep it."
When passer by left, saint said to disciples, "This person is devil."
Disciples were surprised again and thought, "If first one was fool and second one was devil then what does Guru ji want to say?"
After while, saint bought another passer by inside and asked same question to him.
Passer by politely replied, "Maharaj! It is very difficult to say right now. Who can trust this every changing mind? One never know when this mind deceive one's action? If God's grace and good intellect remain, i will return that bag."
After that man left, saint smiled and said to his disciples, "This man is true, He has entrusted his mind to God. There is never wrong decision by such person."
---
You May Also Like: Two Words Rule at Monastery – A Complaining Mind
---
Search Keywords: If You Find Bag of Gold? Saint Lesson for Disciples, Interesting Story about Ever Changing Mind, Story about Human Thinking with Deep Meaning for Adults, Who can Trust this Mind? Short Saint Disciple Story with Life Lesson