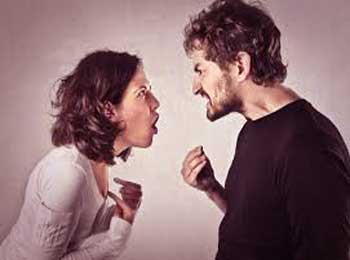 Once in a city, lived a couple who had constant quarrels. In their neighbor lived another couple who lived quietly and happily.
Couple would feel jealous of their neighbors because of nice calm atmosphere of their home.
One day, wife told her husband, "Go to neighbors and look what they are doing? Find out reason for their such well being."
Husband went to neighbors and hid outside their house.
He started watching them and saw that:
"A woman who was wiping floor in room. Suddenly something distracted her and she ran to kitchen.
Listening to voice, her husband rushed into room. He didn't noticed bucket of water and by mistake kicked it, so water overflowed on floor.
Few moments later woman came back and said, "I am sorry, it's my fault because i didn't remove bucket from way."
Just than her husband replied, "No. It's my mistake. I should have noticed it. I am sorry because i didn't notice it and spilled all the water."
After that both together cleaned that water and continued with their work."
After seeing this, husband returned to her wife.
Wife asked him, "Did you understand the reason of their well being?"
Husband replied, "I guess that i did. You see, in our home, both of us always seem to be right our actions and blame other for any mistake Where as In their house, each of them takes the blame on himself and work together to correct whatever wrong happens."
Couple understood their mistake and together learned to solve their problems and lived a happy life.
Moral:
In Relationship, both Husband and Wife have to understand Each other and Support each other instead of blaming other for mistakes.
---
Heart Touching Relationship Stories: Husband Love for Wife..! (Must Read)