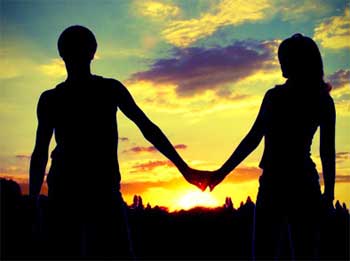 It was anniversary and Ria (Wife) was waiting for her husband to show up. After some years of marriage things changed between them. Once cute couple who couldn't live without each other now had turned bit bitter.
They were now fighting over every little things, both didn't like changes came ito their marriage. Wife was waiting to see if Manoj (Husband) remembered that it was their wedding anniversary.
As the door bell rang she ran toward door and open it with a smile and bunch of flowers to greet her husband. Both started to celebrate. They wanted to make up for fights. They planned to for champagne, light music.
Suddenly the phone in the bedroom rang.
Ria went to pick it up. On call there was a man who said, "Hello mam i am calling from the police station. Is this Mr.Manoj Kumar number?"
She replied, "Yes it is!"
"I am sorry mam but there has been an accident and man died. We got this number from his wallet. Can you please come and identify body?" man replied.
Ria was shocked!! "But my husband is with me here.!!", she replied.
"Sorry mam but the incident took place in afternoon while he was getting off bus." Man replied.
Ria was about to lose her conscience. "How to could this happen?", She thought to herself.
She had read stories about souls returning to meet their loved ones after their death before it leaves.!! Her heart sank. In fear she ran towards other room to look for her husband But he was not there.
She said to herself "It's true!! He left me forever. Oh God I can die to have another chance to mend for every fight they had. I lost my chance forever." She fell on floor in pain.
Suddenly there was noise from bathroom, door opened and Manoj came out and said, "Darling, i forgot to tell you today my wallet was stolen."
Moral:
Life Might not Give you Second chance. Never waste any Moment while you Still have Chance. Value People and Relations in life. Have a Wonderful Life with No Regrets Because we know No one have Promised Tomorrow. Live today and Enjoy every Moment of Life.
---
You May Also Like: Husband Wife and Dirty Window..! (Understanding Other's Point of View)
---
Search keywords: Best Story for Relationship – Husband Wife Emotional Story, Value Relationships in Time Before you Realize and the Time is too Late