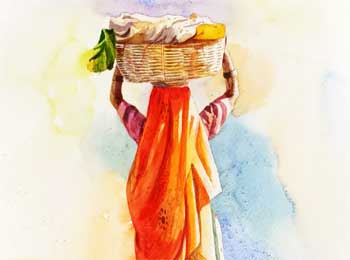 A young boy used to watch his mother buying vegetables from a lady vegetable seller, who used to come their door steps every day.
One particular day, vegetable seller brought bundles of spinach, price 6rs/bundle. Young boy saw that his mother counter bid was exactly half of that amount. Her mother offered that she would buy 4 bundles at that price.
For a while both were harping about price. At last seller politely declined that she won't be able to sell at that price as she won't be able to cover even cost of buying those. She loaded her basket on her head and started walking away.
After she walked a few steps, she turned back and said, "Make it 4.50rs/bundle and i will give it you at that price."
Young boy saw that his mother shock her head in denial and stick to her own bid. Seeing this vegetable seller walked on.
After a while, she turned around and came back and at last deal was clinched at his mom bid. Vegetable seller placed her basket on floor. Young boy mother took her time checking each bundle and finally selected 4 bundles to her satisfaction.
Young boy's mother bought money to pay vegetable seller. Seller took money without even counting and got up to leave.
But just then, she swayed due to apparent dizziness. Young boy's mother held her hands and asked her if she didn't had any food in morning.
Vegetable seller replied, "With today's earning, i will buy some rice on my way home and then eat."
Listening to this, young boy's mother asked her to sit down and hurriedly went back inside and bought food and water for her.
Vegetable seller gratefully accepted and ate food and drank water. Then mother bought her some tea. She drank that tea and thanking young boy's mother, feeling little better, she got up, placed basket on her hear and went on with her work.
Young boy saw all this and was confused. He went to her mother and asked,"You were ruthless for even a rupee but now you offered her food of much higher price.. Why?"
At this mother smiled and replied, "My dear child, when i was buying, it was a trade between buyer and seller but when she was wasn't feeling well, i offered her help. Because there is no kindness in trading and there shall never be any trading in kindness."
---
You May Also Like: Lighted Lamp/Respecting Difference – Different Perspective Stories
---
Search Keywords: Helping Vegetable Seller – Mother Lesson for Son, Trading vs Kindness Story, Deep Meaning Story with Learning for Life, Story about Kindness, Mother Reply to His Son Question Inspiration Story