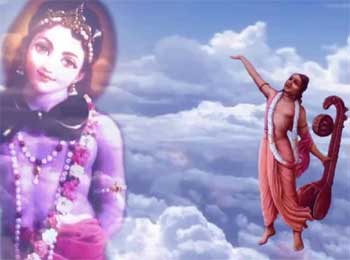 Once Shri Krishna and Narad muni disguised as Sage came to earth and started knocking on door of a Seth (Rich man) to beg for alms.
Seth came out and saw two Sages standing there.
Shri Krishna disguised as Sage said, "Please give us some food."
Seth replied angrily, "Aren't both of you ashamed! Do you feel shame in earning? Go away, go to some hotel and beg for food there.."
Seeing this, Narad muni said to Shri Krishna, "This person disrespects you and your devotee and yet he is so successful and happy. He should be cursed."
Shri Krishna gave that Seth boon to increase his wealth and left.
After walking a little, they reached a poor old lady home who lived in a small hut and was a devotee of Shri Krishna.
As soon as Shri Krishna disguised as Sage raised his voice for alms, old lady came out with great joy and welcomed them both in her house and brought milk for them saying, "Please accept it. I have nothing else to offer."
They both accepted it with great love.
Narad ji said to God, "Look at the plight of your devotees in this world. I can't see it. This poor old lady worships you and today gave alms to us. Bless her with something good please."
Before leaving Shri Krishna, blessed her saying – May your cow die.
Hearing this Narad ji got upset and questioned, "Why did you do it? She had only this cow to support her and yet you cursed her cow to die."
Shri Krishna replied, "This old lady worships me a lot. She will die in few days and while dying, she will worry about cow and her safety thinking what if butcher take her cow and cut it. Who will look after her cow after her death?
And because of this at time of death, instead of remembering me, only concern for her cow will remain and she will not be able to go to my abode and will have to come back to this world as cow in next birth.
On the other hand, Seth was given a boon to increase wealth, at the time of death he would think about money and in next birth he would come as a snake who lives under safe."
It is the law of nature that the thing in which one have a lot of attachment, will be in one's mind at time of death and that person will have to take birth accordingly and suffer.
Therefore, We should keep our contemplation more towards the God and always keep remembering him.
---
You May Also Like: Priest Good Deed Reward – Krishna Arjuna Story
---
Search Keywords: Grace of Shri Krishna for Devotees – Deep Meaning, Narad and Shri Krishna Story about Blessing, Always Remember God Short Story, Deep Meaning Story for Spiritual Motivation, Why to Chant God Name Always Story with Answer