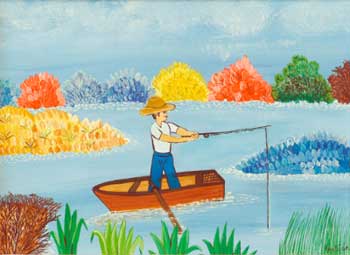 Once upon a time, there was a fisherman who caught a big fish and he knew that King would like that fish. So he decided to gift that fish to King.
When fisherman presented that fish to King, he was very pleased and ordered that a large some of money be given to fisherman.
After fisherman left. Queen heard about what happened and got angry.
She went to King and said, "How can you give such large amount for just a fish?
Once news of large reward spread through the city and it will come to known as fisherman's gift. Every fisherman who catches a big fish and will bring it to palace and then if anyone is not paid in like manner, he will go away discontented and secretly speak evil of you among fellows."
King understood but refused to retake that reward back from fisherman. After sometime Queen came to King and told him that she had made a plan.
She told king that he should call fisherman back and ask him if fish was male or female and if he answer female then tell him that you wanted male and if he says female then say that you wanted male.
King understood that and decided to summon fisherman back to court.
When fisherman came and king asked same. Fisherman replied, "It's neither male nor female.."
King was impressed by his clever answer and again rewarded him with large some of money.
Queen felt irritated but couldn't said anything. Fisherman thanked King and while he was walking out of court, he dropped one coin from that reward. Fisherman bend down to pick that coin and cleaned it and kept it back in his bag.
Queen was seeing all this and said, "You have got such large amount of money then why are you being greedy and care for even a single coin fell from it?"
Fisherman replied, "It's not about just one coin. I picked it up because it has King's face on one side of coin and i didn't want my King's face get dirty.."
King was pleased by his answer and rewarded him with another bag of money.
Moral:
Speech is an Art. If one knows what, when and how to talk then such a person will be successful in life. "The beauty of man is in the clarity of his tongue."
---
You May Also Like: Fisherman and King's Guard.!
---
Keywords: Fisherman and King Reward Short Story with Life Lesson, Speech is an Art Moral Story, Intelligent and Witty Answer Stories