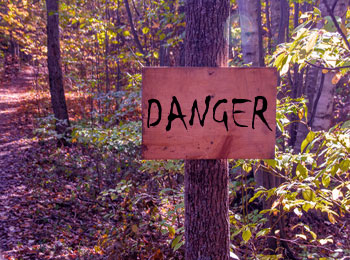 After his wife died, Ramu was left alone in this world. His only son used to live far way and didn't even came for his mother's last rites.
Ramu age was sixty five and losing his wife and seeing his son behaviour, he felt as if there was nothing left for him. With time, Ramu sadness increased.
More he thought, stronger his belief became that it was useless to live in this world anymore.
One morning, he went out for walk and didn't returned to his home. His steps took him out of city and there he saw a bus. He took that bus. After few hours, bus was passing through a dense forest and stopped there for a break.
Ramu stepped out of bus and headed in a direction. After a while, he heard sound of horn from bus calling for passengers to return but he decided not to return. He wanted to get lost in forest.
In dense forest, even during day there was slight darkness. Ramu was walking as if he was not conscious. Due to heat, he started feeling thirsty. While walking, he went towards a high ledge.
His steps suddenly stopped, at place where a slope opened towards a valley below. There he saw that the path was blocked by two sticks. There it was written in big letters – DANGER.
Ramu looked here and there but found no one. He couldn't understand that who would wrote this in such dense forest.
While looked around, he peeked a little further toward valley, seeing deep ditch ahead, his heart trembled. He sat aside, thinking how some moment ago he wanted to die but now he was scared.
After a while, he got up due to thirst but where could water be found in such forest? he thought.
Just then he saw that there was a little pond made of stone was filled with water. Some fruits were also kept there.
He stood there thinking if he should drink that water. He was thirsty, so he drank that water and ate fruits that were kept there.
Now, with calmed mind, he thought – Who has done all this?
He started wandering looking for person who did this. While wandering he saw many signs. He saw DANGER/ BEWARE sign at many dangerous places and POISONOUS FRUITS sign was written on many trees.
He realised that if those signs were not put up, anyone could have fallen in those deep ditch and lost his life.
Seeing all this, Ramu called out loudly, "Brother, who saved my life! I want to see you."
Just then, from behind the leaves, an old man appeared laughing and said – I have been watching you for a long time, tell me how did you come here?
"To tell you the truth, i had come with intention for ending my life but that sign, changed my mind.", replied Ramu.
When asked by old man, Ramu narrated whole story. After telling his story, He asked old man, "Who are you? What are you doing here?"
Old man replied, "My name is Narsi. Many years ago, while passing through this forest, my only son fell into a deep pit hidden under grass. He fell so deep that even i couldn't reach there. He lost his life.
After i lost him, my world went blank. My wife had already died. There was nothing left in my life. Thinking this, i decided that i would also end my life by jumping in to same pit, in which my son fell."
Narsi further said, "I was going to jump and suddenly my mind said – this is cowardice.
It is possible that, way my son fell, many people can lose their life while passing through this forest. Then i realised that some arrangement should be made so that no other life was harmed or lost this way.
That time, i placed tree branches around that pit and tied them with vines and placed a sign there."
Ramu asked, "Then?"
"Then i thought, there must be more such dangerous places in this forest. I saw that there were many other similar pits. Seeing them i decided that as long as there is even a single dangerous place hidden in this forest, i will not die.
Since then, i am living in this forest. My work is not finished yet. I have written warnings at many dangerous places and learned about edible fruits. This forest is not as dangerous as it was before.
I have shown way to many lost people. Provide food and water to those who were on verge of dying because of hunger and thirst. Every time, i am able to help someone, i feel that my decision to not die that day was right", said that old man.
It got late, so old man invited Ramu to his place so that he can go back next day. Next morning, when Ramu woke up, Old man said, "Let me show you that path to go out of this forest."
Listening this, Ramu refused to leave saying, "I am not leaving. I am staying here with you. As you said there are still many places in this forest that need care. I had given up the intention of dying. I have learned that by staying alive, i can help other and save other from dying.."
Old man smiled and accepted his decision.
---
You May Also Like: Two Thirsty Travellers and Well Story!!
---
Search Keywords: Feel Like Nothing Left in Life? Old Man Inspirational Story, Heart Touching Story to Inspire One to Live Life, Story to Encourage One to Think Positive in Life in Difficult Times, Helping Others Short Story, Must Read Story