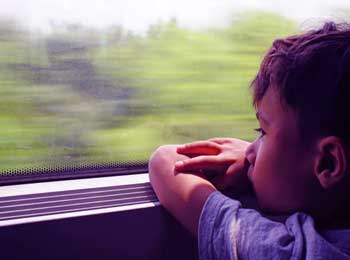 In a city, lived a boy with his parents and his grandparents used to live far away in another city. Parents would take their son to his grandparents house during summer holidays, every year. They would stay there for 15-20 days and then return. Boy loved his stay there.
This continued every year.
With time, boy grew up. One day young boy said to his parents, "Now, I am big, i can go to grandparents house alone. So, please let me go by myself."
Parents didn't agree at first but when boy insisted, they agreed. But parents were worried about his safety. So, they taught me everything he needed to know to travel alone.
Day came when boy was to leave for his grandparents house alone.
Parents came with boy to see him off. When boy was comfortably settled at his berth in train, his parents came out, waiting for train to depart.
While waiting, father went to window and kept talking to son. While talking his father handed him an envelope from window and said, "Son, if you feel afraid or scared on way, open this and read it. It will help you to calm down."
Boy kept that envelope in his pocket carefully and said good bye to his parents. Announcement was made for train to depart.
Boy smiled and told his father, "I remember everything. Don't worry."
Train got signal to depart.
At every station where train stopped, people kept coming and going. Boy was seeing all this. He saw that everyone was with someone and soon started feeling lonely.
At one station, a big man entered compartment. Boy who was traveling alone for first time, got scared seeing that man. He tried to sleep but again thinking about that man, he got scared.
Then he remembered about his father's letter. He put his hand in pocket and he opened the envelope and read.
Father had written – "Don't be afraid. I am here with you in this train, in adjacent compartment."
Just after reading that letter, boy face lit up and all fear vanished.
Learning:
Life is like that too. When God sent us to this world, he has also given us letter, in which it is written – "Don't be sad or afraid. I am with you every moment, everywhere. I take the whole journey with you. Only you keep remembering me. Remember me sincerely, I will come in a moment."
So Don't worry. Don't panic. Don't be discouraged. Have faith in God, Every moment. He is always with us throughout our journey. Till the last breath. Just keep trying to maintain this one feeling. Leave everything to that God without whose permission not even a leaf can move.
---
You May Also Like: Man Complain to God – Trust God's Plan
---
Search Keywords: Father Letter to Boy Traveling Alone – Deep Meaning, Story about Trusting God, Father Son Heart Touching Story, Story about Facing Fears, Never Be Scared God is Always With You Story to Motivate, Story to Share with Family and Friends, Simple Story with Lesson for Life, Advice to Live Life Happily