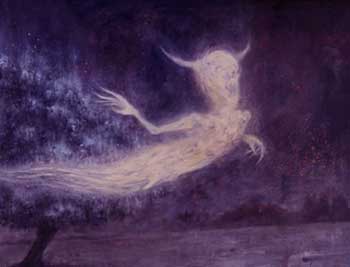 Once upon a time, a farmer and his wife used to live in a village. One day, he was ploughing his fields, suddenly he heard a sharp sound.
When farmer checked, he found a small iron pot with a lid on it, buried under the soil.
Farmer took pot to his house and showed it to his wife. They opened lid and a ghost came out of it.
Ghost said, "Thank you, My master, for releasing me from this pot. I got trapped in this pot many years ago but now you have freed me from this pot. So from now on, i am your slave. You can give me any task, i will do i for you.
But there is only thing you have to remember is that I should never be idle. If you don't assign any work to me then i will eat you up."
Farmer was happy to have help as he had lots of work to do. Farmer thought, "I always have one or another work to do. I can keep him busy always."
Farmer asked ghost, "Plough fields."
With in wink of an eye, ghost ploughed ten acres of field for farmer.
Farmer was astounded. Next, he asked ghost to give water to whole field and again with wink of an eye, ghost watered whole field.
Farmer couldn't believe his eyes. He thought that he would have enough work to keep him busy but ghost did all in wink of eye.
Farmer asked ghost to broom and mope whole house, again ghost did it in seconds.
Farmer got scared as he had no more work for ghost and as per condition, ghost will eat farmer if he doesn't keep him busy with another work.
Farmer wife was also seeing all this.
She said, "We have to assign such kind of work to ghost where he will be busy till the time, we have another work."
She was very wise, after thinking for a while, she said, "Look, we have a dog, we can ask ghost to straighten tail of dog and this will keep ghost busy forever."
Farmer understood and was happy with his wife's intelligent idea and then ordered ghost to straighten tail of dog.
Ghost tried to straighten up tail but it keep on bending.
In this way, farmer's problem was solved, a solution through which they can take help from ghost when needed and at same time, he wouldn't have to face any threat from ghost.
Moral:
By Correct Thinking one can turn a Bad situation to one's Favor.
---
Stories with Twist: Old Wife's Secret Box