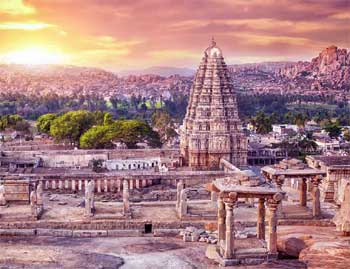 Here are Unbelievable Facts about 10 Miraculous Temples of India.
The Stories, Legends and Beliefs associated with these places are all the more astounding. There are so many Unexplained things related to these Worship places that one can run short of Explanations and Ideas.
---
Kamakhya Temple
Kamakhya temple is a famous pilgrimage situated at Guwahati, Assam. One of the 108 Shakti Peeths.
Kamakhya devi is famous as the Bleeding goddess. The mythical womb and vagina of Shakti are supposedly installed in the 'Garvagriha' or sanctum of the temple. In the month of Ashaad (June), the goddess bleeds or menstruates.
The temple then remains closed for 3 days and holy water is distributed among the devotees of Kamakhya devi.
Jwala Ji Temple
Jwala Ji shrine is located in the lower Himalayan town of Jawalamukhi in Kangra district of Himachal Pradesh.
In the temple there are 7 or 9 naturally occurring jyotis (flames) that constantly burn. They are considered as the 7 divine sisters of Maa Bhagwati or the 9 incarnations of Maa Durga.
Despite many scientific researches, the reason behind these natural flames couldn't be found out. The flame burns flawless and in blue colour.
Akbar even tried to extinguish this eternal flame but couldn't get successful.
Karni Mata Temple
Karni Mata Temple or otherwise known as rat temple is in a small town of Deshnok, about 30 kms south of Bikaner, Rajasthan.
Temple houses around 20,000 rats that are fed, protected and worshipped. Rats can be seen here eating from huge metal bowls of milk, sweets and grains, the leftovers of which are offered to the visitors.
Balaji Temple
Mehandipur Balaji temple is located in Dausa district of Rajasthan. Thousands of devotees flock to this temple to get cured and get evil spirits exorcised.
You can see devotees doing strange things like pouring a bucket of hot water on head and still not burning themselves. Heavy stones pelted on people. People are chained like animals for being cured.
It is important that one should never look backwards after performing prayers and then walk out of the temple premises. The reason for not looking back is that if there are any evil spirits behind, it will not follow the devotee.
Tirunageshwaram Temple
This temple is one of the 9 Navagraha Temples of Tamil Nadu and is about 5kms from Kumbakonam.
Sundays are very auspicious for Rahu / Raaghu poojas and devotees perform Paal (milk) Abhishekam to Rahu.
The unique feature existing here is that during the Abishekam (oblation) the color of milk changes from white to blue when poured upon the idol and again changes back to white when it has flown through the idol. This has been seen by common people.
Tirunarayur Kovil
This is a remarkable wonder that takes place only at Tirunarayur/Nachiyar Kovil near Kumbakonam, TamilNadu. This temple is one of the 108 Divya Desam temples of Vishnu.
This Kal Garuda's (stone idol of Garuda, vehicle of Lord Vishnu) weight doubles every few steps when taken out for a procession, until he steps out of his sannathi he can be easily carried by 4 persons.
Then inside the temple his weight is known to increase as to be carried by 8 persons, then further outside the praharam he weighs heavier and as many as 16 persons are required to carry him, then 32 individuals carry him.
Totally outside the temple not even 64 persons are enough to carry him and he would keep on getting heavier and heavier ahead. He would sweat a lot too so that his cloths get drenched in the sweat But after the procession is over, while returning to his sannadhi he would start losing his weight.
Oppliliappan Kovil
This temple is one of the 108 Divya Desam temples of Vishnu, around 5kms from Kumbakonam Tamil Nadu.
In this temple Salt is not allowed inside the temple & neither is it used in any food preparations, as the lord had promised that he would partake food without salt in this sthalam.
But surprisingly, the temple prasadam's like Puliyogara (tamarind rice), Pongal (rice & pulses kichdi), Dhadhyonnam (curd rice) etc taste just as it would if salt were to be added, when you eat it you realise that there is no salt, but you won't miss the taste.
Vadakkunnathan Temple
Temple is situated at the heart of Thrissur city. This is the first Shiva temple created by Lord Parasurama.
Shiva is worshipped in the form of a huge lingam, which is covered under a mound of ghee, formed by the daily abhishekam (ablution) with ghee over the years.
This is the only temple where the lingam is not visible. It is said that the ghee offered here for centuries does not have any foul odour and it does not melt even in the hot tropical climate of Kerala or with the heat of the hundreds of bright oil lamps burning nearby.
Small scrapping of this solidified ghee are given to devotees as 'Prasada', which is believed to have medicinal and curative properties.
Gavi Gangadhareshwara Temple
Temple is dedicated to the Hindu deity, Lord Shiva. located in Hulimavu, Bannerghatta Road in Bangalore, Karnataka, India.
The temple is renowned due to a significant and almost magical phenomenon that occurs in the temple every year on a particular day in the month of January.
It is known that if one offers ghee in this temple and the priests apply the ghee on the Shiva Lingam and rub on it then the ghee turns into butter miraculously. No technology can convert ghee back to butter yet but here it is possible.
Vedagiriswarar Temple
Hindu temple located in Tirukalukundram, Tamil Nadu, India.
It is named after the sacred Eagles who visit every noon at the Hill Temple called Pakshi Theertham and the Kailash of South India.
After cleaning a particular spot on the adjacent boulder, the temple priest sits down, with the food (sakkarai pongal). Two eagles, after circling around temple top, come near the priest walking. They eat the balls of rice and after cleaning their beaks in the water kept in a small vessel nearby, take off, circle around the tower again and fly off.
---
More Amazing Facts: Facts about Temples around World