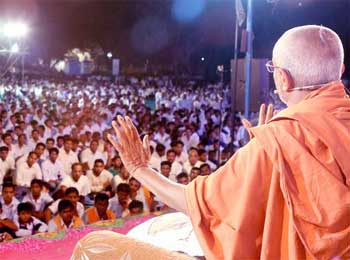 Once an old man used to come to Satsang to listen to saint's discourse. Man who also used to come to Satsang, noticed that old man.
Man came to know that old man was deaf and thought, "If he is deaf, he cannot hear the discourse and if he cannot listen to story, then he will not understand.. then why does he even come? He doesn't even leave until Satsang ends."
He went to saint told about old man, and said, "Baba ji, this old man laughs while listening to your discourse but i came to know that he is deaf."
Listening to this, saint called that old man.
Saint asked his disciple for a pen and paper and wrote, "I came to know you are deaf, still you come to Satsang.. Why?"
Old man replied, "Baba ji, i cannot hear but i understand that when God-realized great man speak, he himself first take dip in God's realization.
When a worldly man speaks, his speech touches one's mind and intellect but when a Saint or Sage speaks, his voice touches the person soul. I can't hear your nectar but its movements touch my body.

And i also get virtue of sitting among pious souls who come to hear your discourse."
Saint realized that old man was rich in understanding, he asked, "Everyday, you come early and sit in front, why so?"
Old man replied, "I am eldest one in family, as elders do, so do the younger ones.
When i started coming to Satsang, sometimes i used to make excuse and bring my son with me. I brought him and now he come with his wife and children. Whole family started coming to Satsang. My family get to learn moral values and ethics."
Learning:
When one come to Satsang, even if you do not understand, even if you do not hear it, still there is so much virtue by attending it that a person sins start getting erased and there will be welfare of whole family.
Person who listens with faith and concentration and meditates on it, without doubt person can get to learn ultimate truth of life.
---
You May Also Like: What is Importance of Satsang? Saint Disciple Story
---
Search Keywords: Deaf Old Man Attending Satsang – Learning for Life, Saint and Old Man Conversation Short Story with Life Lesson, Old Man Reply to Saint Question Interesting Story, Why to Attend Satsang Story, Advice for Better Life, Beautiful Understanding of Life by Old Man Short Story, Importance of Listening to Satsang Short Story, Learn Good Live Good Motivational Story