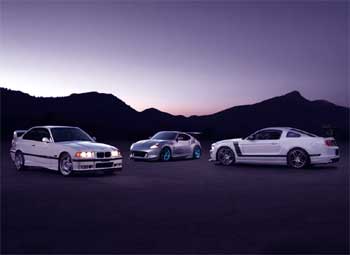 The BMW Logo derives from the Company's origin as an Airplane manufacturer. The now Iconic blue and white 'Target sign' represents a Spinning white propeller against a Blue sky.
The Six Stars in the Subaru Logo are a reference to Pleiades, a Cluster of stars in the Constellation Taurus. Subaru is also Taurus's name in Japanese.
Volvo is Latin for 'I roll'. It's logo is a Circle with an Arrow pointing out, which is an ancient Chemical symbol for Iron. It is also one of the Oldest ideograms in Western culture.
Mercedes Three-point star in its Logo represents Its Mission to make Transportation easier on Land, on Water and in the Air.
The Intersecting Ovals in the Toyota logo symbolize the Trust between Toyota and it's Customers. The Ovals also form the Letter 'T' for Toyota.
The Porsche Logo features the colors of the German flag, the Name of the city where the Company is based i.e. Stuttgart and also Depicts an Image of a Horse to denote Power and Speed. The word 'Stuttgart' literally translates into 'Stud farm'.
The Names of all Lamborghini's cars are derived from the World of Bullfighting. The Diablo and Murcielago are both the names of famous bulls while the Estoque is the Style of sword that Matadors use.
Many of Volkswagen's cars are named after various types of Wind. For example, The Passat, is German for 'Trade wind', Polo is German for 'Polar Winds' and the Jetta means 'Jet stream'.
The Car company Chevrolet is named after the Company's co-founder Louis Chevrolet, a Swiss-born car Racer.
The name BMW stands for Bayerische Motoren Werke or Bavarian Motor Works.
The name Hyundai means The Present Age or Modernity in Korean.
The Car company Mazda's name Derives from 'Ahura Mazda', the Zoroastrian God of Reason and Intelligence. The stylized M in their Logo symbolizes Flight toward the Future.
The name Mercedes was adopted from the Name of a Customer's Daughter 'Mercedes Jellinek'.
Benz and Mercedes were competitors until 1920. When these Companies merged, the newly formed company started selling cars under the brand name 'Mercedes-Benz'.
Bentley, Bugatti, Lamborghini, Audi, Ducati, and Porsche are all owned by Volkswagen.
the Volkswagen group comprises twelve brands from seven European countries: Volkswagen Passenger Cars, Audi, SEAT, ŠKODA, Bentley, Bugatti, Lamborghini, Porsche, Ducati, Volkswagen Commercial Vehicles, Scania, and MAN
Toyota, Daihatsu, Nissan, Suzuki, Mazda, Mitsubishi, Subaru, Isuzu, and Honda are all Japanese Car makers.
---
More Interesting Facts: Facts about Cars