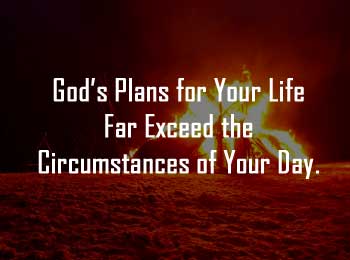 Caught in a storm, a sea ship got destroyed. All passengers in it were drowned in the sea, except one man. By grace of God he somehow survived and came to shore of the sea.
When his unconsciousness broke and his eyes opened, he found himself on a desolate deserted island.
As soon as man woke up he started praying to God, "God! please help me! please send me some help.."
Day passed but no help came for him. He spent night sleeping on beach. Next day, when he woke up he again prayed to God but no help came.
A few days passed like this.
Taking the life of desolate island as his fate. Man started to gathered some wood and grass and made a hut for himself. He collected things he needed from things that came from the broken ship and kept them in hut.
Staying in same hut, he started spending his days.
One day he had gone in search of food. When he returned, he saw that his hut was on fire. He was very sad due to destruction of his only shelter.
In anger, he raised his head towards the sky and started cursing, "God! I told you to send me some help.. but you didn't listen. Accepting my fate, i built a hut here to live and you burnt that too.. You are very cruel.."
At night, he slept by sea. In morning, he was woken up by a loud noise.
He saw that a sea ship has come to shore. He was very happy that at last help had come for him. He was very happy. He got on ship and ship started sailing.
Man asked captain of ship, "How did you know that i am stranded here in this deserted island?"
Captain replied, "We saw a fire signal coming from this side.."
Man said, "But i didn't send the fire signal.."
"But we have come only after seeing the fire signal..", said the captain of ship.
Just then man remembered his burning hut, understood God's plan and started thanking God.
Learning:
When Trouble befalls us, our Faith starts to waver, Patience starts to Break, Hope starts to Fade and we start Complaining to God.

While there is a need in such times, one should try to get out of Trouble by Maintaining Faith in God. We should keep doing our Efforts by Keeping Faith in God without Losing Heart. Our efforts and God's Blessings together will get us out of Every Trouble.
---
You May Also Like: Farmer Choice of Fruit Story – God is Merciful
---
Search Keywords: Burning Hut on Island – Man Complain to God, Man Stranded on Island and Trust God's Plan Story, Short Motivational Story to make Life Better, Story to Motivate One in Times of Trouble, Short Moral Stories for Adult, God is Always There for Us Short Stories with Learning for Life