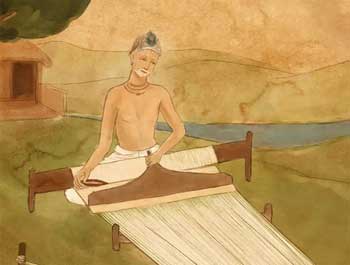 Long ago, In India, in a village lived a weaver who was very calm, humble and loyal by nature. People around knew that he never get angry.
So, one day some boys from neighborhood thought to prank weaver to make him angry. They all reached at weaver shop.
Among kids, there was one kid who came from wealthy family.
He went ahead and pointed toward a sari and said, "What's cost of this?"
Weaver replied, "100rs"
Then boy took that sari and cut it into two pieces for purpose of teasing him and then took one piece in his hand and said, "I don't want whole sari, i want only half. How much will it cost?"
Weaver calmly replied, "50rs"
Now, boy took that piece and again cut that in half. Now, he took left over half piece in his hand and asked again, "I don't want even half. How much will this piece cost?"
Weaver replied, "25rs"
Boy likewise cut the sari again and finally said, "I don't want this sari anymore. Now, it is useless to me."
Weaver replied, "Boy, It not only useless to you, it is not of use to anybody."
Boy felt ashamed and said, "I made a loss to you. I would like to pay you full price for this sari, i cut."
Weaver said, "When you didn't buy that sari, how could i take money from you."
Boy's pride got hurt and he said,"I am rich, You are poor. If i pay you for these pieces it wouldn't hurt me but how will you cover your loss? You have to face this loss because of me, so please let me pay for it."
Weaver smiled and said, "You can't compensate for loss that occurred.
Just think of how much hard work a farmer did to grow cotton. Then another person did hard work to make threads from cotton and then i colored those thread and weaved this sari.
This much hard work could be successful only when someone wears it, benefits from it, uses it. But you cut it into pieces and how can this loss be compensated just by rupee?"
In voice of weaver there was extreme kindness and mildness, instead of resentment.
Boy became ashamed of his act and he had tears in his eyes. He fell on weaver's feet and asked for forgiveness.
Weaver lovingly asked him to get up, patted his back and said, "Boy, if i had taken money from you then it could have work for me but your life could have turn into piece same as you did with sari.
I lost one sari, i can make it again but once your life is destroyed because of your ego, from where will you bring another? Your repentance is precious to me."
Weaver whose high thinking changed boy life was none other than Saint Kabir Das Ji.
---
You May Also Like: Fights in Married Life – Saint Kabir Advice
---
Search Keywords: Boy's Prank and Weaver Response – Moral Lesson for Kids, Saint Kabir Beautiful Story, Never do Wrong or Damage Things Best Story With Lesson for Children, Arrogance and Repentance Story