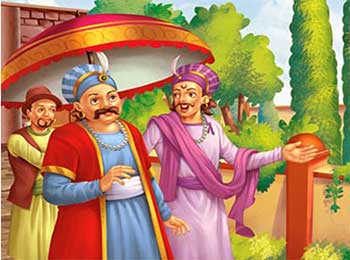 Once Akbar went to market. There he saw a parrot, which was very pretty. Owner had taught parrot good things. Akbar got happy listening to that parrot and decided to buy that parrot.
Akbar gave owner a good price and brought that parrot to his palace.
Whenever Akbar asked parrot something, he would answer that immediately. In few days, parrot became even more close to him.
Akbar ordered royal arrangements for it's stay in the palace. He told his servants to take special care for this parrot.
He also said to his servants that this parrot should not die any under circumstances and if anyone come to him to tell about parrot's death then he would hung him as punishment.
Servants took special care of that parrot and took care so that parrot wouldn't have any problem but then one day suddenly Akbar's beloved parrot died.
Now, servants of palace were stirred as to who will tell Akbar about this because whoever would inform him of parrot's death would be hanged.
Servants were very scared and after much deliberation, they decided to go to Birbal for help.
One servant went to Birbal and told him everything. Hearing all, Birbal agreed to tell this news to Emperor Akbar himself.
Birbal went to Akbar and sad, "Maharaj, there is sad news."
Akbar asked, "What happened?"
Birbal said, "Your dear parrot, is neither eating anything nor drinking."
Then he paused for a minute and said, "Neither speaking anything, nor opening his eyes, nor acting, nor…"
Akbar angrily said, "Nor what? Why don't you just say that it is dead?"
Birbal said, "Yes Maharaj, But i have not said this to you. Therefore, please spare my life."
Listening to this, even Akbar couldn't say anything to him. In this way, Birbal saved his as well as his servants life.
Moral:
One should not Panic in Difficult Times and think Wisely.
---
You May Also Like: Watermelon in the pot – Akbar Birbal Story
---
Search Keywords: Akbar's Beloved Parrot – Akbar Birbal Story, Birbal Wise Thinking Short Stories for Kids, Interesting Stories about Wittiness