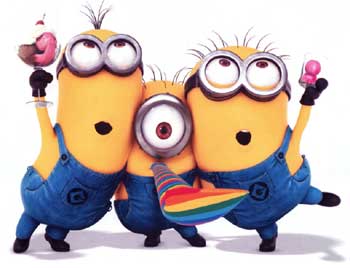 The Despicable Me movies have Grossed more than $1.4 billion at the Worldwide box office.
The Poster for Despicable Me 2 apparently Contains more than 10,400 individual Minions.
The Minions language may sound like Gibberish but each word in 'Minionese' translates to an Actual word.
Minions Speak a Mixture of Spanish, English, French, and Italian, with additional elements of Russian and Korean.
In total, Seven Short films featuring the Minions have been Released: Orientation Day, Home Makeover, Brady & Gary, Minion Mayhem 3D, Training Wheels, Puppy, Panic in the Mail room.
The Minions were Inspired by the Characters – the Oompa Loompas in Charlie and the Chocolate Factory and the Jawas of Star Wars.
'The Minions' movie plot is an Origin story, Showing their Evolution from Yellow single-celled Organisms to their current Adorably Nefarious state.
Despicable Me and Minions co-director Pierre Coffin Voices all of the Minions himself. For the new film, Coffin voiced 899 of the Little Yellow Henchmen.
The Despicable Me Directors originally created Minions to help make Gru more Likeable for Audiences.
All of them Wear blue overalls with Gru's Emblem on the Front, Black gloves on both hands and Black shoes.
Minions were Ended up being Small to show that Gru is Surrounded with Incompetence.
In the Movie Minions, the three minions with the lead parts Bob, Kevin, and Stuart were Meant to resemble Gru's adopted daughters Margo, Agnes, and Edith.
Evil minions were Inspired by old Looney Toons cartoons where Tweety Bird would Drink a potion and turn into a Monster.
The Evil Minions are Purple because purple and Yellow are on Opposite sides of the Color Spectrum.
The Average Minion stands at 105cm in Height.
Despite several hundred Minions existing, There are only about 48 possible Design combinations of Height, Build, Hair and Eyes.
To this day, all the Minions featured in the Movies have been Male.
There are only 5 Natural Hairstyles for Minions in the Despicable Me films, including being Bald.
Through the Movies, It has been proven that Minions can Survive outer Space. This means that they do not Need Oxygen and they can Resist Freezing.
The Minions have Song their own Versions of Hit songs such as 'I Swear', 'Barbara Ann' and 'YMCA'.
The Most viewed Minions video on the Web is a "Best of the Minions" with more than 86.5 million Views.
The Minions have two Oscar Nominations – Both for Despicable Me 2.
Minions have been Licensed by McDonalds, Hasbro, General Mills.