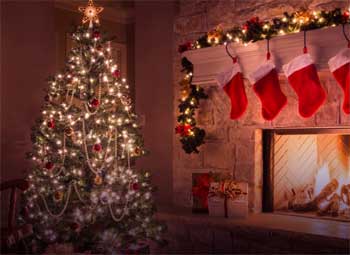 Christmas celebrations occur All over the World, Although the day on which it is Celebrated varies, as well as the Decorations, Food and Customs.
---
Here is our List of Interesting Facts about Christmas.
The Christmas Wreath was originally Hung as a symbol of Jesus. The Holly represents his Crown of Thorns and the Red berries the Blood he shed.
One of the Reasons we Leave Milk and Cookies for Santa is because Dutch kids would Leave food and drink for St. Nicholas on his Feast day.
The Well-known reason we give Presents at Christmas is to Symbolize the Gifts given to Baby Jesus by the three Wise men.
The Tradition of Hanging stockings comes from a Dutch legend. A Poor man had Three daughters for whom he could not afford to provide a Dowry. St. Nicholas dropped a Bag of Gold down his chimney and Gold coins fell out and into the Stockings drying by the Fireplace.
Santa Claus delivering Presents comes from Holland's celebration of St. Nicholas feast day. Children would Leave shoes out the Night before and in the morning, would find Little Gifts that St. Nicholas would Leave them.
Germany is Credited with Starting the Christmas Tree tradition.
The Look of Santa Claus we have today, was Created at an 1804 meeting where Member John Pintard handed out Wooden cutouts of Jolly old St. Nick in front of Stockings filled with Toys.
The Image of Santa Claus flying his Sleigh began in 1819 and was Created by Washington Irving.
Rudolph was actually Conceived by a Department store, Montgomery Ward, as a Marketing gimmick to get Kids to buy Holiday Coloring books.
Between the 16th and 19th centuries Global temperatures were significantly Lower than Normal in what was known as a 'Little ice age'. Charles Dickens grew up during this Period and Experienced snow for his First eight Christmases. This 'White Christmas' experience Influenced his Writing and began a Tradition of Expectation for the Holidays.
"White Christmas" by Bing Crosby is the Best-selling Christmas song ever.
Highest-grossing Christmas movie of all time is How the Grinch Stole Christmas – Jim Carrey version
'Jingle Bells' was originally Supposed to be a Thanksgiving song.
According to the Guinness World Records, the Tallest Christmas tree ever Cut was a 221-foot Douglas fir that was Displayed in 1950 at the Northgate Shopping Center in Seattle, Washington.
Rio de Janeiro, Brazil has the Largest floating Christmas tree in the world – It is 278 feet tall.
Almost 28 sets of LEGO are Sold every second During the Christmas season.
Christmas Season sales account for almost One-sixth of all Retail sales in the US.
Japanese spend their Christmas Eve eating in KFCs. This is a popular Tradition in Japan.