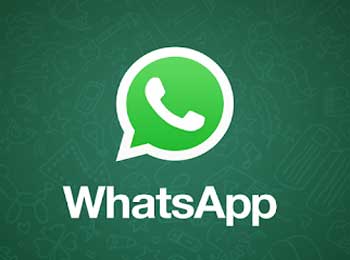 The name 'WhatsApp' was derived from the phrase 'What's Up!' used when Starting a conversation.
WhatsApp is Controlled by just 55 employees for a Billion users.
WhatsApp does not Store any conversation, audio, image or video files on their Servers. After message is Delivered to the recipient, Nothing is left stored on WhatsApp servers.
WhatsApp is the Third Most Downloaded Android App in the world.
WhatsApp CEO and one of its Founder, Jan Koum, quit college and then started Working for Yahoo and later started his own Project of app development along with his friend.
Whatsapp founder Jan Koun and Brian Acton strongly disregard Advertisements and which is why they neither did invest in the Ad since the Beginning of the app.
Jan Koum keeps a note from Brian taped to his desk that reads "No Ads! No Games! No Gimmicks!" To keep them focused on Building a pure Messaging experience.
WhatsApp is Banned in 12 countries around the Globe and this makes WhatsApp the Most banned app in the World.
WhatsApp revealed its Official figures that on average WhatsApp users open the app 23 times or more per day.
Atleast 1 million new users are Added on WhatsApp daily, claimed by the Company.
More than 29 Million Messages are Sent Every Minute a Whatsapp
WhatsApp founders knew its Worth and that made them Reject Google's acquisition Offer for 10 million US dollars in 2014.
On February 19, 2014, the popular Social Networking website Facebook finally acquired WhatsApp. That day WhatsApp became the Biggest purchase of the Facebook company by Spending an amount of $19 billion.
Initially, WhatsApp was Functioning with an agenda of providing a Simplified text messaging app. Later in 2013, the company decided the Add the Voice messaging feature to increase the App's Value.
WhatsApp supports 60 Different Languages
The Net worth of WhatsApp is more than the GDP of Several countries. It surprisingly, a Mobile app development company has surpassed some of the Developed countries GDP, including Japan and Iceland.
The Amount that was Charged for WhatsApp acquisition in 2014 is higher than some of the Top global companies. For instance, NASA is worth 17 billion dollars while WhatsApp was Sold for 19 billion US dollars.
---
More Interesting Facts: Youtube Facts