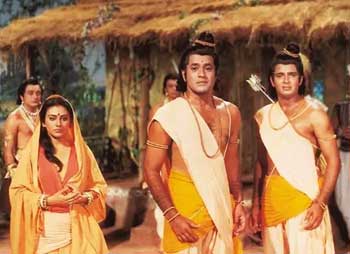 Ramayan remains One of the Most Iconic shows to have been made. Here are some Interesting Facts about it:
The creators of Ramayan were not sure about the Show. Therefore, they decided to Test the Audience by releasing another show on the same lines with the same cast. The show was Vikram-Betaal which was based on popular Folk stories.
The Show was Hit and the Makers got a Green signal to launch their actors as the Lead characters of Ramayan. It was in 1985 that Vikram-Betaal hit the TV screen to Extreme popularity among the Audience and it was in 1987 that Ramayan appeared.
The First episode of the Ramayana Serial was Telecast on television on 25 January 1987.
Ramayan was made with a Budget of ₹9 lakh per episode.
When Ramayan first Aired, Doordarshan reportedly Earned ₹40 lakh for each episode.
Ramayan was Telecast in 55 Different countries and Earned a Viewership of around 650 million.
Ramayan had Created so much Frenzy around that the Audience used to see the Actors as their Rel-life Gods. In fact, Many used to watch the Show barefooted with the Entire family – Emulating the Same way that they used while Visiting a Temple or any other place of Religious importance.
At that time, It was found in the Survey that when Ramayana serial Started 99% of India's TV Used to see. This Serial was so popular that When it was Telecast, the Streets of the country would be Lost.
Owing to the Popularity of the show, It was Extended to a total of 78 episodes, Instead of the original 52 episodes and Shoot for Ramayan went on for over 550 days.
Ramayana was the First Indian serial to be Broadcast for 45 minutes.
The Show earned a Spot in the Limca Book of Records for the World's most watched Mythological series.
All producers Refused to Sponsor this serial then Ramanand Sagar himself Sponsored.
Sagar Revealed that at that time, the Audience had so much Patience that everyone used to Queue up silently and there used to be No Noise on the Sets from the part of the Onlookers and Makers of the Show used to bear all the Food and lodging expenses of the Crowd at that time.
The Adoration that actor Arun Govil earned, for his Portrayal of Ram was so Intense that he had to give up Smoking in public.
When Aired again, Ramayan recorded the Highest ratings for a Hindi GEC (general entertainment channel) show since 2015.
---
Interesting Facts: Amazing and Unknown Ramayana Fact